Each of Kentucky's major river basins is supported by Basin Teams, which are composed of community members and partners who are working to address water quality issues. The Basin Teams provide an opportunity for networking, information sharing, and leveraging funding and other resources. The Kentucky Division of Water receives input from the state's Basin Teams to help determine Priority Watersheds that can benefit from collective efforts.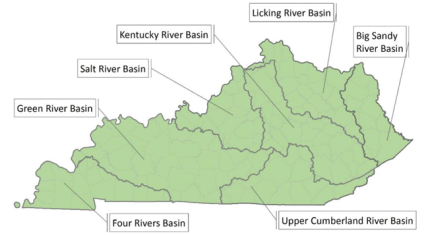 Priority watersheds incorporate information about known problems and the area's capacity to address them.  Capacity is evaluated by considering community interest levels, known active interest groups, and potential partners.  Although these priority watersheds are used to help maximize conservation efforts and improvements to water quality, they are not the only places that the Division of Water focuses its efforts. 
The Kentucky River Basin Team evaluated subwatersheds of the basin based on current projects, known water quality concerns, and areas of future interest.  The following map and descriptions provide details on the 2021 Priority Watersheds for the basin.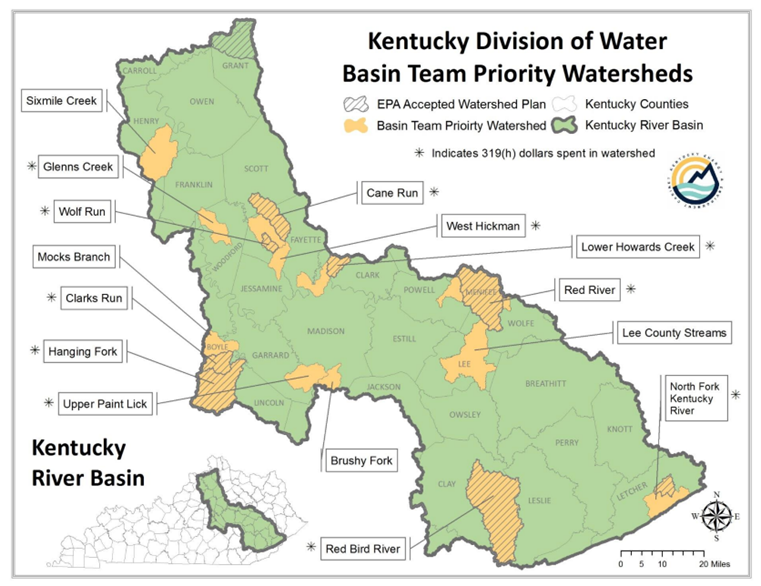 Brushy Fork Watershed, Madison County
The City of Berea is interested in addressing high bacteria levels, fertilizer and manure runoff, and urban stormwater impacts to Brushy Fork, a tributary of Silver Creek.  Based on a formal assessment by KDOW in 2016, a 3.5 mile upstream segment of Brushy Fork does not meet criteria to support aquatic due to human activities in the watershed.
Cane Run Watershed, Fayette/Scott Counties
Cane Run and its tributaries flow through urbanized areas of Lexington into open green spaces and parks, including the University of Kentucky's Agricultural Experiment Station and the Kentucky Horse Park. It eventually empties into North Elkhorn Creek  in Scott County. The Cane Run watershed also supplies water to the Royal Spring Aquifer, which is a drinking water source for the City of Georgetown. 
Various stream segments throughout the watershed have been noted as having high levels of sediment, pathogens, and nutrients.  The Lexington-Fayette Urban County Government is working to address pollutant sources that fall within its jurisdiction and Scott County is addressing sewage impacts by extending its sanitary sewer service to unserved areas in the watershed. 
The Cane Run Watershed-Based Plan was updated in 2019 and is available for viewing here.
Clarks Run Watershed, Boyle County
Clark's Run is a major tributary of the Dix River Watershed, which includes the Herrington Lake reservoir, a major drinking water source and recreation destination for the region.  Beginning in 2006, an intensive water quality sampling, analysis and planning effort focused on these two subwatersheds of the Dix River/Herrington Lake.  As a result, several local partners have engaged in water quality improvement efforts that have included stormwater management activities in the City of Danville, septic system education and repairs, agricultural practices that reduce pollution of waterways, and community outreach and education.  These activities are ongoing in a continuing effort to make water quality improvements.
A local organization, the Clarks Run Environmental and Educational Corporation (CREEC) and others in the community have been actively working to better understand water quality and inform local residents about its status and how they can help. CREEC also partners with the City of Danville and others to coordinate community projects, such as tree plantings and the removal of invasive plants along the stream corridor.
The 2009 Watershed Based Plan for Clarks Run is available here.
Glenns Creek Watershed, Franklin/Woodford Counties
The Glenns Creek watershed includes the communities of Versailles, Millville and a small portion of Frankfort. Its landscape also includes many thoroughbred horse farms and distilleries. Following on 20-plus years of volunteer sampling, a watershed planning effort is currently underway.  Learn more here.
Hanging Fork Watershed, Boyle/Lincoln Counties
Th Hanging Fork watershed is largely rural and encompasses many farming operations and small communities. A watershed plan determined high bacteria levels to be a major issue, which has led to management efforts to limit contributions from both human and livestock waste. The Lincoln County Sanitation District was formed to extend sewer service into areas that demonstrated impacts from failing onsite septic systems.
The 2009 Watershed Based Plan for Hanging Fork can be found here.
Lee County Streams, Lee County
The Lee County Fiscal Court is working to address streambank erosion that is impacting roads and have identified issues with flooding and stormwater runoff.
Lower Howards Creek Watershed, Clark County
The Lower Howard Creek watershed is located in southwestern Clark County and flows directly into the Kentucky River just downstream of Boonesborough.  The watershed covers 19 square miles and includes a drinking water reservoir for the city of Winchester.  A lower 3.5 mile segment of Lower Howard Creek is listed by the Kentucky Division of Water as failing to support aquatic life, due to nutrient levels and organic enrichment.
The 2014 Watershed Based Plan for Lower Howards Creek is available here.
Mocks Branch Watershed, Boyle Counties
Mocks Branch was selected as a priority watershed due to issues with stream flashiness and associated runoff issues. Past projects have attempted to address runoff issues from farms in this area, but there are no active projects in this watershed. The Division of Water has documented the lower 5 miles of Mocks Branch as being impaired for supporting aquatic life due to problems with nutrient enrichment of the waterway. (See Kentucky Water Health Portal for more information.)
North Fork Kentucky River Headwaters, Letcher County
The headwaters of the North Fork Kentucky River lie within the Eastern Kentucky Coal Field physiographic region, which is characterized by mountainous terrain, rapid surface runoff, and moderate rates of groundwater drainage.  The bedrock is composed of coals, sandstones and shales.  The area is largely wooded and rural, with local municipal water supplies for the towns of Whitesburg, Fleming-Neon and Blackey.  High sediment, salinity and pathogen levels impact aquatic life and recreational water uses in the watershed.
The Headwaters organization and the Kentucky Water Resources Research Institute jointly completed the North Fork Whitesburg Tributaries Watershed Plan in 2020.  This plan includes assessments and recommendations for three headwater subwatersheds. Concerns included high bacteria levels from septic systems and straight pipe, stream and riverbank erosion, and coal mine runoff.
The Watershed Based Plan can be viewed here.
Red Bird River Watershed, Bell/Clay/Leslie Counties
The Red Bird River begins in Bell County, forms the boundary between Clay and Leslie counties, and eventually comes to a confluence with Goose Creek at Oneida to form the South Fork of the Kentucky River.  For much of its path, the Red Bird River runs through the Daniel Boone National Forest's Redbird District.  Its watershed also encompasses the 24,014 acre Redbird Wildlife Management Area. The river is an Outstanding State Resource Water and home to some of the most beautiful land in the state of Kentucky.  A formal watershed assessment and planning effort was initiated in 2011 and dealt with a few pollution issues, including trash, bacteria, and sediment.  The U.S. Forest Service is now seeking ways to assist local residents with using these findings to make the Red Bird River a more desirable place to visit and enjoy.
The 2016 Watershed Plan for Red Bird River is available here.
Red River Watershed, Menifee/Powell/Wolfe Counties
Internationally known for its scenic, natural beauty and its ample rock climbing opportunities, the Red River Gorge watershed extends from northern Wolfe County, across southern Menifee County, to northern Powell County.  Much of the watershed area lies within the Daniel Boone National Forest and is rural and wooded, with some agricultural use.  Creeks like Swift Camp, Gladie, Clifty, and Indian are special places to those who call these communities home.  Even though the Red River Watershed is a beloved resource with beautiful forests, scenic streams, and diverse wildlife, the waterways are threatened by loss of streamside vegetation, runoff from towns and agriculture, and recreational misuse.  The Kentucky Waterways Alliance and the U.S. Forest Service worked closely with local residents to develop a Watershed Plan that addresses these impacts and should help keep the Red River clean for all to enjoy.
The Friends of Red River actively works to address issues in the watershed, including septic systems, trash, and sedimentation.
The Red River Gorge Watershed Plan can be viewed here.
Sixmile Creek Watershed, Grant/Henry Counties
The Sixmile Creek watershed was identified as a priority due to active sampling by Kentucky State University faculty and students. A portion of Sixmile Creek and a tributary, Backbone Creek, are considered Outstanding State Resource Waters by the Kentucky Division of Water.
Upper Paint Lick Watershed, Garrard/Madison Counties
The Upper Paint Lick watershed is 82% agricultural with many livestock grazing and feeding operations. It also includes a portion of the town of Berea on its eastern edge. Water quality monitoring was conducted in 2019 and 2020 and the findings were used to complete an assessment and watershed plan with management recommendations.
A draft watershed plan for the Upper Paint Lick Watershed is under review by the Kentucky Division of Water.
West Hickman Creek Watershed, Fayette/Jessamine Counties
The West Hickman Watershed is an approximately 22 square mile watershed located within Fayette (18 square miles) and Jessamine (4 square miles) counties in Kentucky. In response to citizen interests about the watershed and the creek's water quality, the Lexington-Fayette Urban County Government's (LFUCG's) Division of Environmental Services supported the development of a watershed management plan. Elements of concern include urban stormwater runoff contributing to contamination from herbicides, pesticides, nutrients, sediment, and sanitary sewer overflows. A local group, the Hickman Creek Conservancy actively engages in community education and outreach events.
A draft of the 2022 West Hickman Watershed Management Plan is available here.
Wolf Run Watershed, Fayette County
This urbanized watershed in Fayette County is supported by a well-established citizens group, the Friends of Wolf Run, the Lexington-Fayette Urban County government and multiple partners.   Representatives of this watershed are also very engaged in volunteer sampling through Kentucky River Watershed Watch and exceptionally effective at using these sampling results to affect change.  Various stormwater and sewer infrastructure improvements have been made to address water quality concerns.  Residents of Wolf Run neighborhoods also work regularly to enhance riparian buffers and greenways along Wolf Run and its tributaries.  These activities keep people engaged and interested in improving their local creek.
The 2013 Wolf Run Watershed Based Plan can be found here.