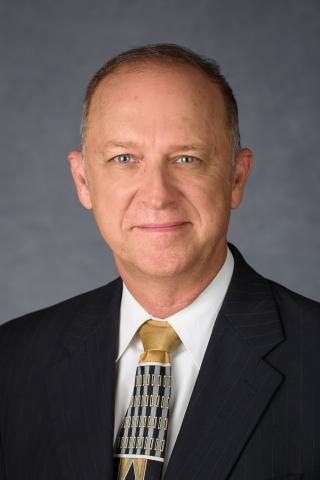 Dr. Lindell Ormsbee, P.E., P.H., Ph.D, D.WRE, F.ASCE, F.EWRI
Professional Registration
Professional Engineer, State of Kentucky
Professional Hydrologist, American Institute of Hydrology
Diplomate, American Academy of Water Resource Engineers
Professional Employment
2018 - Present: Executive Director, Tracy Farmer Institute for Sustainability and the Environment  
2010 - Present: Director, Kentucky Center of Excellence for Watershed Management
2009 - 2020: Associate Director, University of Kentucky Superfund Research Center
2005 - Present: Director, Research Translation Core, University of Kentucky Superfund Research Center
2004 - Present: Director, Kentucky Water Resources Research Institute 
2003 - Present: Raymond Blythe Professor of Civil Engineering
2003 - 2009: Director, Kentucky Research Consortium for Energy and the Environment
2000 - 2006: Director, Eastern Kentucky PRIDE Water Quality Assessment Program
2000 - 2003: Associate Director, Kentucky Water Resources Research Institute 
2000 - 2002: Interim Director, Tracy Farmer Center for the Environment
1999 - Present: Kentucky River Basin Coordinator
1998 - 1999: Acting Director, Kentucky Water Resources Research Institute
1997: Visiting Researcher, Kentucky Environmental Protection Agency
1995 - 1998: Associate Director, Kentucky Water Resources Research Institute
1996 - 2003: Professor of Civil Engineering, University of Kentucky
1989 - 1996: Associate Professor of Civil Engineering, University of Kentucky
1983 - 1989: Assistant Professor of Civil Engineering, University of Kentucky
1979 - 1981: Project Engineer, Howard K. Bell Consulting Engineers, Lexington, KY
Research Interest and Expertise
Dr. Ormsbee is the Raymond-Blythe Professor of civil engineering at the University of Kentucky. Since joining the faculty of the University of Kentucky in 1983, Dr. Ormsbee has been actively engaged in research, teaching, and consulting in water resources and environmental engineering and has published more that 250 technical papers and reports on various topics in this field. In addition to serving on numerous international, national, and state committees, Dr. Ormsbee has spoken to hundreds of audiences at various technical conferences and other meetings across the United States as well as overseas.
Dr. Ormsbee currently serves as the director of the Kentucky Water Resources Research Institute, executive director of the Tracy Farmer Institute for Sustainability and the Environment, associate director of the UK Superfund Research Center, director of the UK Superfund Research Center's Research Translation Core, and director of the Kentucky Center of Excellence for Watershed Management. In the past he has served in several other research administrative capacities including, Director of the Kentucky Research Consortium for Energy and Environment (03-09), Director of the Tracy Farmer Center for the Environment (02-03), Director of the UK-PRIDE Water Quality Assessment Program (00-06), the Chair of the Kentucky Environmental Quality Commission (04-06), and the Chair of the Scientific Advisory Board of the Kentucky Watershed Watch Program (04-09). From 1985 to 1998 he served in various capacities in the Kentucky Section of the American Society of Civil Engineering, culminating as president in 1998. In 2003 he served as Chair of the EWRI-ASCE Council on Emerging and Innovative Technologies and in 2004 he was elected Vice-President of the American Institute of Hydrology. In 2008, Dr. Ormsbee served on a BOSC technical review committee for the EPA Homeland Security Program.
Dr. Ormsbee's current research efforts are directed toward the application of systems analysis methods to complex problems in water resources and environmental systems. Over the last 30 years, Dr. Ormsbee has directly managed (as either a PI or Co-PI) over 21 million dollars in external contracts from such agencies as the National Science Foundation, the U.S. Geological Survey, the U.S. Army Corp of Engineers, the U.S. Department of Energy, the National Institutes of Environmental Health Sciences, the U.S. Environmental Protection Agency, and the US Department of Homeland Security. He has also served on several multidisciplinary research teams that have brought in an additional 29 million dollars in external research funding.
Professional Service Activities
1998 - Present: Director, Watershed Management Program, Kentucky River Authority
1998 - Present: Scientific Advisor, Kentucky River Watershed Watch
2003 - 2007: Chair, Kentucky Environmental Quality Commission
2004 - 2006: Chair, Scientific Advisory Board, Inter-basin Coordinating Committee, Kentucky Watershed Watch
2004 - 2005: Member, Governor's Task Force on Blackwater Issues
2004: Vice President for Academic Affairs, American Institute of Hydrology
2003 - 2004: Chair, EWRI Emerging and Innovative Technologies Council
2002: Chair, Nuclear Subcommittee, Governor's Energy Policy Board
1997-1998: President, Kentucky Section of ASCE
1995: Chair, AWWA International Computer Conference.
1991 - 1992: President, Bluegrass Chapter of Kentucky Section of ASCE