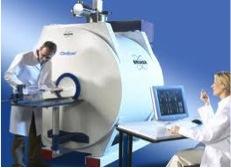 The MRISC is equipped with a new, state-of-the-art, 7T Bruker ClinScan, small animal, MRI scanner.

This scanner is ideally suited for translational research because it uses the same sequences and software as our 3T Tim Trio human scanner. A full complement of receiver coils as well as 12cm and 20cm gradients, provides the ability to image everything from "mice to men."
An additional closed cycle, 14K cryocoil (above right image) provides a factor of a 2.5 to 5.3 increase in sensitivity for relevant applications.