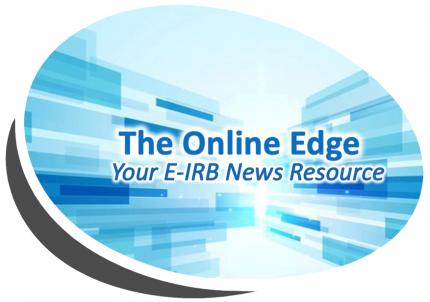 August 14, 2019
E-IRB Protocol History & Application Attachments [HTML]
The E-IRB system retains a Protocol History that enables future users to retrieve relevant IRB application materials throughout the life of the study.  Continue reading for an explanation of what Protocol History entails and the established standards for retaining attachments.
In Protocol History under the Protocol Approvals tab, there is a "View Attachments" link that provides a list of attachments available for each 'iteration' of the application (1st 'iteration' is Initial Review (IR); 2nd 'iteration' may be a Modification Request (MR) or Continuation Review (CR), and so on). 

The "View Attachments" feature functions as a snapshot of the approved application as it existed when approval was granted (be it IR, CR, MR, etc.), so each of those iterations needs to represent the entire protocol as it should be implemented per IRB approval. 
When a new iteration is created (e.g., draft MR, CR), E-IRB automatically carries forward all attachments from the previous iteration, and allows the researcher to remove those that are outdated or obsolete.  
An outdated document could be one that has been replaced by a revised document (e.g., a data collection tool that is no longer going to be used because a revised one was created to acquire additional data), or that represented a component of the research that no longer is being conducted (e.g., a study is closed to enrollment, so advertising materials used for recruitment are no longer needed).
It is the responsibility of the researcher to maintain the most current attachments with each iteration (the E-IRB system will never delete attachments of its own accord).  
Examples:
If you create an MR to revise one of your two IRB-approved informed consent/assent documents, in the Informed Consent Section attachments you will see a list of the 'clean' copies of the two previously approved informed consent/assent documents. You will need to remove the old version of the informed consent form (ICF) you wish to revise to prevent it from being stamped.  The ICF that is not being revised can be left alone.  Upload a tracked-changes ("highlighted") copy of the revised ICF assigned the Document Type "Highlighted Changes" and an untracked ('clean') copy of the revised ICF assigned the applicable Document Type (e.g., Informed consent/HIPAA Combined Form) for IRB review. Upon approval of your MR only the unchanged ICF and the clean copy of the revised ICF will get an "IRB Approval" stamp.  In Protocol History, the "View Attachments" link for this MR will display a list of attachments including the newly approved & stamped revised ICF and all previously approved attachments minus the old version of the ICF you removed.
If you have a study that involves off-site research and included a letter of support at Initial Review to get your study approved, when you create a CR, that letter of support will automatically be included in the attachments. If the research is continuing to be conducted at that off-site facility, you would leave the letter of support alone (do not remove it).  When approval for CR is issued, the View Attachments link in Protocol History for this CR will include the off-site letter, which appropriately reflects that approval for that off-site facility has been maintained.
Instructions about deleting files/attachments are in the Informed Consent section (see highlighted text below in screen shot), and in E-IRB Video Tutorials on 'Adding Informed Consent Section Attachments' (~ minute 4:00), and 'Responding to Requested Revisions' (~ minute 5:40).
If you have inadvertently acquired IRB approval for an outdated/obsolete document, it is recommended that a Modification Request be created & submitted to correct the records.
---
July 15, 2019
IRB Approval Expiring on a Study [HTML]
There may be certain circumstances in E-IRB that prevent a Continuation Review (CR) reminder notice (1st, 2nd, or last) from being emailed to the researcher(s). The Office of Research Integrity (ORI) understands researchers have come to rely on reminder notifications to submit Continuation Review materials, so this customer-service feature is being worked on to restore in full and we hope to resolve the problem soon. We appreciate your patience!  [7/29/19 UPDATE -- this issue has been resolved, but the following guidance still applies.]
Meanwhile, whether an emailed CR (or Final Review (FR)) reminder notice has been disseminated or not, when a user goes to the Researcher Dashboard there is a tab there called "Expiring" in red font with a number in brackets of how many applications are listed under that tab (see example in screen shot below). Applications appear under the "Expiring" tab 90 days prior to the approval end date and will continue to be listed until either a CR has been approved, or the application has been closed (e.g., FR). 
In the list of expiring applications, there is an "Expires" column providing a countdown of how many days remain prior to the approval end date. Please ignore the "In Progress" column as it is not necessarily accurate at this time – researchers with edit authorization can see if there is a draft Modification Request (MR) or CR in the Draft folder, or an MR or CR that has already been submitted by looking in the Submitted folder.
The applications listed under "Expiring" are available for selection in the CREATE NEW "Continuation (CR) or Study Closure" folder by researchers with edit authorization (as long as someone else hasn't created an MR or CR already). Please submit your CR materials to allow adequate time for completion of the screening and IRB review process prior to the approval end date of your study; responses received less than 30 days before your approval end date may result in a lapse in IRB approval.
For additional procedural detail and regulatory requirements pertaining to Continuation Review, see the ORI/IRB "Continuation Review and Annual Administrative Review Standard Operating Procedures" (PDF). 
---
July 8, 2019
To Contact or Not to Contact [HTML]
When you create an application in E-IRB, there are a lot of elements to consider and options to choose from! One item you might want to review on your applications is under the Study Personnel section – who is listed as a contact?
What is a contact anyway?
For the purposes of E-IRB applications, people set as contacts are the people who will receive automated notifications from the E-IRB system regarding the application status. So, anyone who should be getting those notices (e.g. approval issued, response needed, expiration of IRB approval, etc.) should be marked as a contact! If there are multiple study personnel involved in a project, it's a good idea to have at least one of them marked as a contact.  
Who should be a contact?
By default, the person listed as the principal investigator on the application will always receive notifications. Some people you might consider listing as contacts in the Study Personnel section of an E-IRB application include:
Study coordinators
Co-investigators
Faculty Advisors
Anyone listed as an editor for that application
Ultimately, it's up to the PI to decide who should receive that information. These are just some suggestions, and there may be other people who would be good to list as contacts.
How do I add someone as a contact?
You can manage these selections when you first add study personnel to your E-IRB application. You can also easily edit study personnel at when you create a continuation review or a modification request. To edit your study personnel options in any of those phases:
Go to the "Study Personnel" section of your E-IRB protocol.
Click on the "Details" link next to the name of the person whose information you'd like to edit.
Manage roles and other information using the options on the right side of the "Add/Modify Personnel" view.
The contact option is beneath the "Role for E-IRB Access" selection drop-down. Hover your mouse cursor over the blue "i" icon for tool tips.
Here's an example for a study coordinator. You can see that this person is authorized to obtain consent, is an editor for this application, and is a contact (so will receive all correspondence related to the E-IRB application).
For more information on E-IRB, including video tutorials, known issues, and FAQs, visit ORI's E-IRB page.
---
June 4, 2019
New Feature! Ability to Cancel Draft Other Reviews [HTML]
A new feature was added to the E-IRB system at the end of May that enables researchers with edit authorization to eliminate any unwanted draft Other Reviews. 
[Tip: Other Reviews include Unanticipated Problems (UP), Protocol Violations (PV), Deviations/Exceptions (DEV/EXC), and Administrative Study Closures (aka "Study Closure").]
To do so, on your researcher dashboard (see screen shot below):
Go to the DRAFT folder,
Click on the Other Reviews tab.
In the list of applications you see under your Other Reviews tab, click on the "Draft" button by the type of Other Review you wish to delete.
A window will pop up with the draft of the selected Other Review. In that window, make sure all required fields have something in them (can be fake info), scroll to the bottom and use the "Delete" button to delete that draft.
When the "Delete" button is clicked, there is a small pop- up message to prompt confirmation that this is indeed the action desired:
If "OK" is clicked, the DRAFT Other Review is completely deleted, with no means of retrieving, and there is no history maintained of said action occurring; by default you will be returned to your main Dashboard (Inbox). 
If "Cancel" is clicked, the pop-up window disappears and you are left on the screen to continue working on the draft Other Review.
If you have submitted an Other Review and wish to cancel/withdraw it, ORI can do so only if the Other Review has not been assigned for IRB review yet. Please communicate with the assigned ORI staff for your protocol to determine if it is still possible to cancel/withdraw your Other Review (rs_ori@uky.edu or 859-257-9428).
---
Upcoming E-IRB Improvement: Viewing Approved Applications [HTML]
During the third week of March another system update is expected to be implemented.  This update includes an improvement that impacts what you see when you access an approved application.  The new view more clearly reflects the approved application as historic content, representative of what the IRB approved at a past date.  After the system update, when you click on the protocol number for an approved application, instead of having the application itself open up with the section menu on the left, you will get an ALL ATTACHMENT access table that includes a PDF document (ProtocolPDF) of the application generated at the time IRB approval was issued (see sample screen shot below).
This new view does not change how modifications to an approved application, or continuation review requests are created and managed. For guidance on how to create and submit a modification request (MR), review the video tutorial "Create a Modification Request (MR)". For guidance on how to create a continuation review request, follow the instructions in the email reminder notifying study contacts that the protocol is due for continuation review.
Please also refer to the E-IRB Info page for an assortment of useful information and resources aimed at supporting your E-IRB experience.
---
Reminder: Research Approved Under the Pre-2019 (previous) Common Rule Regulations
Non-exempt IRB protocols approved under the pre-2019 Common Rule (a.k.a. "old rule") may continue through completion under the old rule (i.e., be "grandfathered in") provided the investigator maintains continuous approval by submitting his/her continuing review information in a timely manner before the approval expiration date. Investigators are sent multiple reminders for continuation review in advance of the approval expiration date; the first being 3 months prior to expiration. If the approval lapses, the protocol can no longer remain open and must be closed. If the research needs to continue past the expiration of approval, all research activities must cease and a brand new application must be submitted and approved under the revised, 2019 Common Rule (a.k.a. "current rule"). If needing to submit a new protocol due to the expiration of approval on a Pre-2019 protocol, contact ORI staff to ascertain the recommended review type for the new application.
---
The Revised Policy for the Protection of Human Subjects (aka Revised Common Rule) has been implemented.
The Revised Federal Policy for the Protection of Human Subjects (aka the "Revised Common Rule") was implemented on January 21, 2019. Any protocol approved prior to the 1/21/19 implementation date must comply with the previous Common Rule regulations (aka Pre-2019 Requirements) for its duration. Any protocol approved on or after January 21, 2019, must comply with the Revised Rule regulations.
Temporary Freeze on New (Initial Review) IRB Applications Ends
The temporary freeze on new initial review IRB applications has been lifted. If you submitted a new protocol after the accepted deadlines in December and had it returned to you, you are now able to re-submit the protocol in E-IRB. Be sure to go through the application and make sure all sections have a blue check mark next to them rather than a pencil. A blue check mark indicates the section is complete while a pencil icon signifies that additional information/verification is required. If any sections in the application have a pencil icon next to them (e.g., Informed Consent, Research Description), be sure to provide any missing information and then verify and save the data in those sections before re-submitting your application to the ORI.
In Summary:
Research approved prior to January 21, 2019 must continue to comply with the previous Common Rule regulations through completion. 
Research approved on and after January 21, 2019, must comply with the Revised Common Rule. The Revised Common Rule regulatory changes were incorporated into the version of E-IRB that was released January 22, 2019.  
FDA-Regulations have not yet harmonized with all of the Revised Common Rule provisions.  However, the changes that do not conflict with current FDA regulations have been implemented.