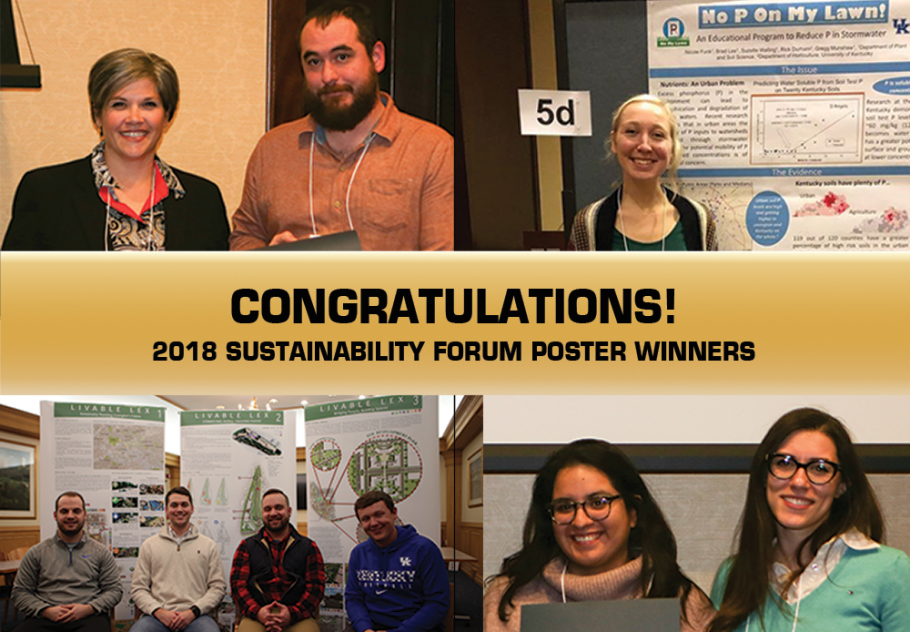 Graduate Student Category ($300 Prize)
1.) Adam Baker, Building a Better Monarch Waystation, (pictured top left).
2.) Izabela Gomes & Yaziri Gonzalez, Supporting Food Production through Extension in an Amish Community and Educating New Agricultural Professionals in Kentucky, (pictured bottom right).
3.) William Bond, The Forestry Reclamation Approach: Measuring Sediment Mass Accumulation Rates in Reclaimed Mine Lands and Naturally Regenerated Logged Forests in Eastern Kentucky, (not shown).

Undergraduate Student Category ($200 Prize)
1.)David Toda, Joseph Browning, Justin Bambach and Griffin Johnson, Livable Lex: Sustainably Planning Lexington's Future, (pictured bottom left).
2.) Nicole Funk, No P On My Lawn!: An Educational Program to Reduce P in Stormwater, (pictured top right).