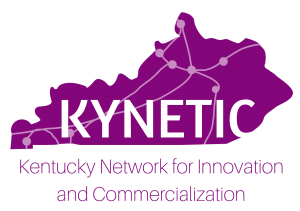 KYNETIC Cycle 9 Pre-Application is Open! 
Deadline to Submit: February 13, 2024, 5:00 pm ET.
KYNETIC PRE-APPLICATION PROCESS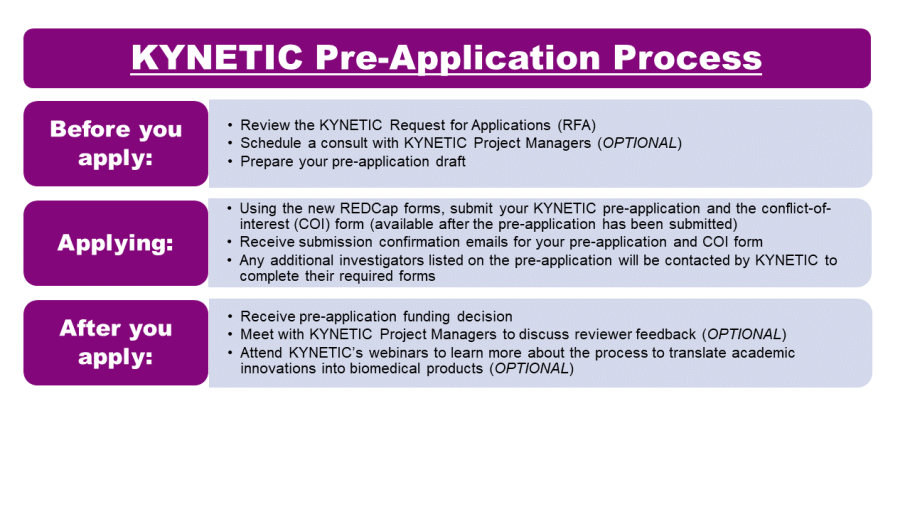 We strongly recommend consulting with KYNETIC Project Managers prior to submitting your pre-application.
KYNETIC Project Managers can assist you with various aspects of the pre-application preparation, including the review of drafts prior to submission. We encourage informal inquiries about whether an idea or product would be suitable for this program. If needed, we also may be able to help identify a suitable collaborator(s) and/or faculty sponsor for non-faculty applicants.
Please reach out if you have questions!
For Investigators at:

Please contact:

University of Kentucky

Request a Consultation or email kynetic@uky.edu

University of Louisville

Eastern Kentucky University

Kentucky Community & Technical College System (KCTCS)

Kentucky State University

Morehead State University

Murray State University

Northern Kentucky University

Western Kentucky University
The KYNETIC (Kentucky Network for Innovation & Commercialization) program supports faculty, staff, trainees, and students who want to accelerate the introduction of their groundbreaking innovations to the marketplace to address unmet needs to benefit human health.
KYNETIC does this by:
Developing infrastructure for identifying technologies
Allocating funding (up to $200k/technology) for product definition studies (e.g., feasibility studies, prototype development, or proof-of-concept studies)
Providing access to early-stage development expertise and mentorship
Offering hands-on skills development in entrepreneurism
Accelerating development of commercialization strategies
Eligible KYNETIC technologies must originate from a participating University or community/technical college in Kentucky and focus on healthcare-related products.
The KYNETIC program is funded through the National Institute of Health's Research Evaluation and Commercialization Hub (REACH) program. The goal of the program is to support proof-of-concept centers (hubs) that facilitate and accelerate the translation of biomedical innovations into commercial products that improve patient care and enhance health.
The KYNETIC hub is led by the University of Kentucky (UK), University of Louisville (UofL) and the Kentucky Cabinet for Economic Development (KY CED), with support from the Kentucky Commercialization Ventures (KCV) program. The long-term goals of the program are to foster commercialization success, economic development and entrepreneurial culture change throughout Kentucky.
Frequently Asked Questions (FAQs)
Frequently Asked Questions (FAQs)
Why is KYNETIC different from other grant programs?
The KYNETIC program is not a traditional grant program; it is product-focused, milestone-driven and requires business-case project management. Applicants who are invited to submit a full application will work with KYNETIC staff and/or mentors to develop a product development plan and timeline with specified milestones.
What benchmarks will I have to meet in the program?
Receipt of funding for selected projects will be milestone-driven and KYNETIC staff will monitor development progress. There will be a continuation evaluation (go/no-go decision) every six months and non-progressing projects may be terminated and replaced with new projects.
Who is eligible for the KYNETIC program?
This RFA is open to all faculty, staff, trainees, and students at participating Kentucky state universities and community colleges. Non-faculty applicants must identify a faculty member who is willing to sponsor their application. Applications must focus on developing products that have the potential to improve patient care or enhance human health.
All types of products (e.g. therapeutic, preventative, device, test, software) are eligible. Having multiple Principal Investigators (up to three) is optional but permitted.
Does my institution participate in the KYNETIC program?
The following institutions participate in the KYNETIC network:
University of Kentucky, University of Louisville, Eastern Kentucky University, Kentucky State University, Morehead State University, Murray State University, Northern Kentucky University, and Western Kentucky University. The network also includes the 16 colleges in the Kentucky Community and Technical College System.
Does my product have to treat one specific disease?
There is no disease-specific requirement, but it must be related to human health.
What's the policy on intellectual property?
Applications should involve ideas that originate from within a participating institution (making them potentially eligible for patent protection or some other mechanism that will return income to the program) or university-derived technologies with pending/issued patents or copyright. Technologies that are already licensed to a company are not eligible.
What's the budget?
Requests for up to $50,000 per project, over a period of 6 months, will be considered. Projects are eligible for competitive renewal every 6 months until a maximum of $200,000 per technology is reached.
Cycle 6
Project Title: Pediatric NeuroRecovery Posture Control System
Principal Investigator: Andrea Behrman (UofL)
Project Title: Novel copper complexes as cancer-selective therapeutics
Principal Investigator: Levi Beverly (UofL)
Project Title: Development of a Multitenant Mixed/Virtual Reality Platform for Increasing Awareness of Implicit Bias in Child Welfare Decision-Making: A Public Health Crisis
Principal Investigator: Daniel Boamah (WKU)
Project Title: Flexible Suction Coagulator for Endoscopic Surgeries
Principal Investigator: Mark Fritz (UK)
Project Title: Development of Novel VMAT2 Inhibitors for the Treatment of Methamphetamine Use Disorder
Principal Investigator: R. Kip Guy (UK)
Project Title: Engineered Human Monocyte Vesicles for Personalized Cancer Therapy
Principal Investigator: Jill Kolesar (UK)
Project Title: Better hearing testing, and cheaper hearing aids
Principal Investigator:  Andrew Long (NKU)
Project Title: Awaken Emerse Virtual Reality Exposure Treatment for Eating Disorders
Principal Investigator: Christina Ralph-Nearman (UofL)
Cycle 5
Project Title: Pediatric NeuroRecovery Posture Control System
Principal Investigator: Andrea Behrman (UofL)
Project Title: Novel copper complexes as cancer-selective therapeutics
Principal Investigator: Levi Beverly (UofL)
Project Title: Development of a Multitenant Mixed/Virtual Reality Platform for Increasing Awareness of Implicit Bias in Child Welfare Decision-Making: A Public Health Crisis
Principal Investigator: Daniel Boamah (WKU)
Project Title: Novel compounds for diagnosing, treating, and monitoring triple negative breast cancer
Principal Investigator: Lindsay Cormier (EKU)
Project Title: Flexible Suction Coagulator for Endoscopic Surgeries
Principal Investigator: Mark Fritz (UK)
Project Title: Development of Novel VMAT2 Inhibitors for the Treatment of Methamphetamine Use Disorder
Principal Investigator: R. Kip Guy (UK)
Project Title: Engineered Human Monocyte Vesicles for Personalized Cancer Therapy
Principal Investigator: Jill Kolesar (UK)
Project Title: Vertify Probe: Intraoperative device for measurement of bone quality
Principal Investigator: Stuart Williams (UofL)
Project Title: Mind-Controlled Prosthetic Arm
Principal Investigator: Mahdi Yazdanpour (NKU)
Cycle 4
Project Title: Pediatric NeuroRecovery Posture Control System
PI/Contact PI: Dr. Andrea Behrman (UofL)
Project Title: Development of a Multitenant Mixed/Virtual Reality Platform for Increasing Awareness of Implicit Bias in Child Welfare Decision-Making: A Public Health Crisis
PI/Contact PI:

Dr. Daniel Boamah (WKU)

Project Title: Novel compounds for diagnosing, treating, and monitoring triple negative breast cancer
PI/Contact PI: Dr. Lindsay Cormier (EKU)
Project Title: Flexible Suction Coagulator for Endoscopic Surgeries
PI/Contact PI:

Dr. Mark Fritz (UK)

Project Title: Development of Novel VMAT2 Inhibitors for the Treatment of Methamphetamine Use Disorder
PI/Contact PI: Dr. R. Kip Guy (UK)
Project Title: Vertify Probe: Intraoperative device for measurement of bone quality
PI/Contact PI:

Dr. Stuart Williams (UofL)
Cycle 3
Project Title: Pediatric NeuroRecovery Posture Control System
PI Last Name/Institution: Behrman/University of Louisville
Project Title: Novel compounds for diagnosing, treating, and monitoring triple negative breast cancer
PI Last Name/Institution: Cormier/Eastern Kentucky University
​​​​​​​Project Title: A novel therapeutic target for hepatic lipid accumulation
PI Last Name/Institution: Gordon/University of Kentucky
​​​​​​​Project Title: Development of Novel VMAT2 Inhibitors for the Treatment of Methamphetamine Use Disorder
PI Last Name/Institution: Hammill/University of Kentucky
​​​​​​​Project Title: Power driven bone biopsy trephine needle system
PI Last Name/Institution: Larkin/University of Kentucky
​​​​​​​Project Title: Rapid Trocar Site Closure Device
PI Last Name/Institution: Metzinger/University of Louisville
​​​​​​​Project Title: Development of a differential scanning calorimetry system for rapid identification and differentiation of specific causes of heart damage and myocardial infarction
PI Last Name/Institution: ​​​​​​​Roussel/University of Louisville
Use of Antisense Oligonucleotides Targeted Against Angiotensinogen in Marfan Syndrome
Sheppard/University of Kentucky
A highly selective mPGES-1 inhibitor as an effective and non-addictive analgesic
Zheng/University of Kentucky
Cycle 2
Project Title: Novel compounds for diagnosing, treating, and monitoring triple negative breast cancer
PI Last Name/Institution: Calderon/Eastern Kentucky University
​​​​​​​Project Title: A novel anti-IL-6 inhibitor as a new immunotherapeutic for uveitis
PI Last Name/Institution: Donninger/University of Louisville
​​​​​​​Project Title: A novel therapeutic target for hepatic lipid accumulation
PI Last Name/Institution: Gordon/University of Kentucky
​​​​​​​Project Title: Power driven bone biopsy trephine needle system
PI Last Name/Institution: Larkin/University of Kentucky
​​​​​​​Project Title: Rapid Trocar Site Closure Device
PI Last Name/Institution: Metzinger/University of Louisville
​​​​​​​Project Title: Development of a differential scanning calorimetry system for rapid identification and differentiation of specific causes of heart damage and myocardial infarction
PI Last Name/Institution: Roussel/University of Louisville
​​​​​​​Project Title: A highly selective mPGES-1 inhibitor as an effective and non-addictive analgesic
PI Last Name/Institution: Zheng/University of Kentucky
Cycle 1
Project Title: Novel enzyme therapeutics targeting Alzheimer's disease
PI Last Name/Institution: Bruntz/University of Kentucky
Project Title: A novel anti-IL-6 inhibitor as a new immunotherapeutic for uveitis
PI Last Name/Institution: Donninger/University of Louisville
​​​​​​​Project Title: A novel therapeutic target for hepatic lipid accumulation
PI Last Name/Institution: Gordon/University of Kentucky
​​​​​​​Project Title: Power driven bone biopsy trephine needle system
PI Last Name/Institution: Larkin/University of Kentucky
​​​​​​​Project Title: Development of a differential scanning calorimetry system for rapid identification and differentiation of specific causes of heart damage and myocardial infarction
PI Last Name/Institution: Roussel/University of Louisville
​​​​​​​Project Title: Liposomal azithromycin to reduce cardiac inflammation
PI Last Name/Institution: Venditto/University of Kentucky
​​​​​​​Project Title: A highly selective mPGES-1 inhibitor as an effective and non-addictive analgesic
PI Last Name/Institution: Zheng/University of Kentucky