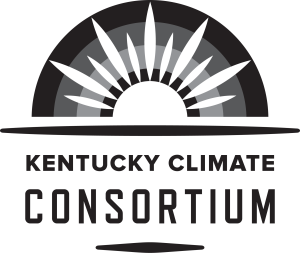 The Kentucky Climate Consortium (KYCC) is a multidisciplinary network of climate researchers and teachers in higher education across Kentucky. We aim to support the development of rich and collaborative research, teaching, and outreach opportunities across the sciences, engineering, social sciences, humanities, and the arts.
Consortium members have extensive experience researching and teaching climate-related issues, both in and beyond Kentucky. Members are also engaged in community-oriented climate work, through nonformal educational opportunities, public lectures, and more.
The KYCC currently has over 50 members across 14 institutions. It was co-founded in 2019 by Dr. Lauren Cagle (University of Kentucky, Department of Writing, Rhetoric, and Digital Studies) and Dr. Carmen Agouridis (University of Kentucky, Department of Biosystems and Agricultural Engineering); Dr. Cagle has served as Director since 2020.
Meet the Founders

Vision Statement
Empowering all Kentuckians to be environmental stewards by providing access to reliable, accessible, and relevant information about the climate.
Mission Statement
The Kentucky Climate Consortium acts as a catalyst for climate research and education in Kentucky by providing networking opportunities for Kentucky-based climate scholars and enabling them to leverage their expertise and passion to collaboratively pursue climate-related research, teaching, and public outreach.
Become a Member
If you are working in higher education in Kentucky and researching, teaching, or otherwise working on any aspect of climate, you may be eligible to join the Kentucky Climate Consortium. KYCC membership connects you to a vibrant network of scholars interested in all dimensions of climate and how it affects Kentucky. Please check out our membership page for more information and email ukclimate@uky.edu with any questions.