These videos, PowerPoint slides, articles and other educational resources with a focus on research administration have been created and complied by the Office of Sponsored Projects Administration (OSPA) to provide the campus research community with access to the most current information, knowledge, and skills required to successfully propose and manage awards for sponsored projects.  (Note:  More resources are under development and will be posted as they are available.)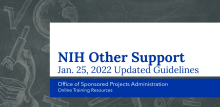 Please watch this video (6 minutes) reviewing recent changes to the NIH's Other Support guidelines.
OSPA Library
Browse digital content created in-house by the OSPA team for videos, presentations, and infographics covering processes, topics, and frequently asked questions regarding sponsored projects.
To view our Microsoft Stream channel, click here.
To read about UK's sponsored project policies and procedures, click here.
To explore our library of downloadable resources, click here. (Coming soon!)
SRAI LevelUP
Access to the Society of Research Administrators International (SRAI) LevelUP Micro-credentialing Program is available at no charge to all staff and faculty at the University of Kentucky.
The LevelUP program provides training through an online learning platform of modules that are 2 to 5 hours in duration on relevant topics related to research administration.  The collection of micro-credentialing modules were developed by subject matter experts at SRAI to enhance your current understanding of research administration and expand your knowledge into different topical areas. Topics follow the lifecycle of a sponsored project and include pre-award administration, post-award finance, and regulatory and financial compliance among others.
The following modules are currently available to all staff and faculty at the University of Kentucky:
Relationships, Roles and Responsibilities in Research Administration

Principles in Research Development

Principles of Proposal Development

Principles in Pre-Award Research Administration

Principles of Award Negotiation and Setup

Research Compliance Frameworks

Principles of Post-Award Financial Research Administration

Introduction to Clinical Research Management: Clinical Studies and Trials
The module content is targeted for staff and faculty who are new to research administration, with 0 to 3 years' experience, as well as experienced research administrators who are interested in taking a refresher course in a familiar topic and anyone interested in gaining knowledge in a related subject.
To learn more about LevelUP, visit SRAI's website here.
To register for LevelUP, please fill out this form or contact Kaylee Lloyd, OSPA Program Coordinator, directly at kaylee.lloyd@uky.edu.
Research Administration Training and Education (RATE)
The Research Administration Training and Education training workshops were originally offered in-person several years ago.  The Office of Sponsored Projects Administration (OSPA) is in the process of updating the PowerPoint slides from that workshop series and creating new slides as a resource for accurate and up-to-date research administration information for the campus research community. (Note:  More slides will be posted as they are updated.)
RATE Topics (*Denotes slides are under development)
     1.      Introduction to Research Administration Infrastructure and Support –overview of organizational structure and support services for research administration at UK
    2.      Proposal Development and Submission –overview of the proposal components, routing and submission process
    3.      Developing a Budget–details on creating the budget for a sponsored project proposal
    4.      Cost Share*–details on proposing and documenting cost share or matching funds provided to a sponsored project
    5.      Award Receipt* –details on the processes that occur when an award is received
    6.      Award Management*–overview of processes and procedures that happen after an award is accepted
     7.      Introduction to Subawards* –overview of the lifecycle of a subaward from proposal to closeout
     8.      Financial Management of Sponsored Projects* –review of the roles and responsibilities associated with management of the funds awarded for a sponsored project
3 Ways to Learn More
Stream
our educational content.
Developed by our team to answer questions and provide insight on the research administration process.
Level up
with microcredentialing.
Online modules created by experts at SRAI to give you an in-depth look at the lifecycle of sponsored projects.
Connect
with our team.
Have a topic you'd like us to cover?