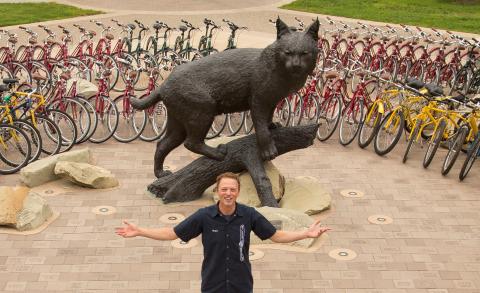 Shane Tedder has served as the Sustainability Coordinator for the University of Kentucky since 2009. In this position he coordinates and supports a wide range of programs and initiatives. His office is active in policy development and planning processes for the University and recently led the development of the University's first Sustainability Strategic Plan. This plan includes an implementation plan for UK's Greenhouse Gas Emissions Reduction Commitment. He frequently guest lectures in a variety courses and works to make sure the campus of the University is available as a living laboratory for students and faculty. He also helped create and continues to manage the Sustainability Challenge Grant Program which has awarded $900,000 to 33 interdisciplinary campus teams focused on sustainability solutions since 2015. He founded the Wildcat Wheels Bicycle Library, a student-run bike shop and check-out program; and manages the Student Sustainability Internship Program. Outside of his work with the University he is one of the founders of the Broke Spoke Community Bike Shop, a local non-profit committed to providing better access to better bicycles for all members of our community.
Email Shane.Tedder@uky.edu
Research Areas: planning and policy development, alternative transportation, public communication
Collaborative Interests: grant collaborations, guest lectures, public lectures
Click here for Shane Tedder's external website.