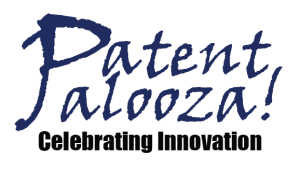 Patent Palooza! is an event hosted by the OTC to celebrate the UK Innovation Community. It recognizes UK innovators and successful commercialization deals of the previous fiscal year.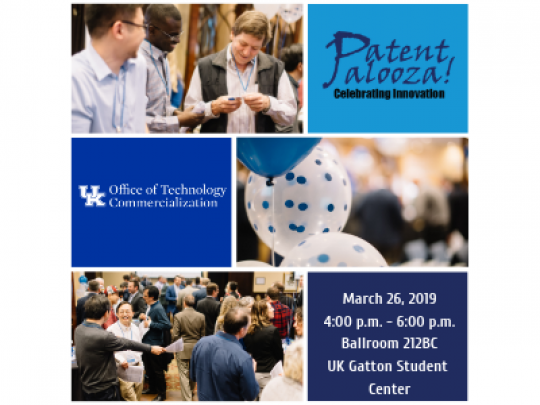 The third annual Patent Palooza! event will recognize all UK innovators and successful commercialization deals of FY18.
Dr. Lee Todd will be presented the inaugural Lee T. Todd Lifetime Achievement Award in Entrepreneurship.
March 26, 2019
4:00 p.m. - 6:00 p.m.
Ballroom 212C
Gatton Student Center
2018
The second annual event was held March 27, 2018, at the Hilary J. Boone Center. Recognition was given to inventors on patents, inventors whose patents have been licensed, researchers and startup companies who have received SBIR/STTR grants, UKAccel graduates, and innovators being recognized by the National Academy of Inventors.

2017
The first annual event, held March 28, 2017, recognized 43 inventors for the 30 patents that were issued in fiscal year 2016. Special recognition - an engraved and framed plaque with replica patent - was given to Dr. Chang-Guo Zhan, who reached a milestone of receiving his 20th patent in 2016. He had 5 patents issued last year alone! Each inventor named on an issued patent in FY16 was given a coffee mug with the front cover of their patent printed on it. 
Additionally, recipients of SBIR-STTR grants in FY16 were recognized, as well as inventors on patents for which a license agreement was executed.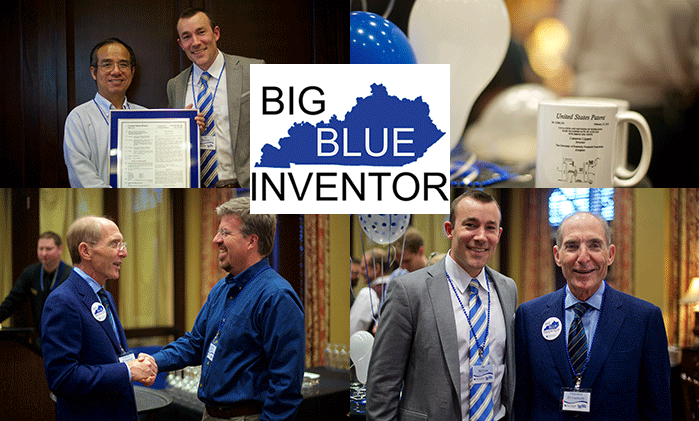 David Allen
George P. Allen
Jayakrishna Ambati
John Anthony
Sergey Artiushin
Theodore Asafo-Adjei
Eric M. Blalock
Luke H. Bradley
Melissa A. Bradley-Whitman
Stephen A. Brown
Thomas Chambers
Payal Chandan
Joseph Chappell
Jhong-Min Chen
Kuey-Chu Chen
Zhi David Chen
Fuhua Cheng
Yang-Tse Cheng
Robert Corn
Donna L. Coyle
Russell Coyle
John D. Craddock
Mark Crocker
Peter A. Crooks
Timothy P. Devarenne
Stephen Dobson
Linda P. Dwoskin
Thomas Dziubla
Kate Eddens
Karyn Esser
Steven Estus
Reynolds A. Frimpong
John Christopher Gant
Xin Gao
Don Marshall Gash
Matthew Gentry
Greg A. Gerhardt
Priyanka Ghosh
Bryan Greenhagen
Kenny Harris
Arit M. Harvanko
Todd Hastings
Kenneth Haynes
Zach Hilt
Robert Hodgen
Joseph R. Holtman
Dillon Huffman
David Patrick Hunley
Elaine L. Jacobson
Myron K. Jacobson
Michael Joseph Jay
Craig T. Jordan
Serene Josiah
Vinod Kasam
Chase Kempinski
Dong-Eun Kim
Hyuntae Kim
Kyung Bo Kim
Craig Vander Kooi
Philip W. Landfield
Do-Min Lee
Na-Re Lee
Wooin Lee
Markos Leggas
Joshua Lile
Stephen M. Lipka
Cameron A. Lippert
John Littleton
Kun Liu
Kunlei Liu
Paul Lockman
Catherine Loudon
Mark A. Lovell
Bert C. Lynn
J. Michael McIntosh
Tina Metcalf
Zach Miller
Thomas D. Niehaus
Kimbely Northrip
Shigeru Okada
Kalpana S. Paudel
Todor Petrov
Ragotham Reddy Pinninti
Nada Porter
Michael F. Potter
David Puleo
Joseph E. Remias
Jurgen T. Rohr
Daniel Scott
Manli Shen
Stefan Stamm
Audra Stinchcomb
Galen Stone
Douglas Robert Strachan
Sangeetha Sumithran
Christopher R. Swartz
Megan Szyndler
Valeria Tarallo
Darrell Taulbee
Olivier Thibault
John S. Thompson
John Timoney
Oleg V. Tsodikov
Andrzej Wala
Elzbieta Pogonowska Wala
Dongfang Wang 
David S. Watt
Xiaochen Wei
Mathew C. Weisenberger
Michael J. Wesley
Wenchao Yang
Chang-Guo Zhan
Zhenfa Zhang
Fang Zheng
Guangrong Zheng
Joseph B. Zwischenberger