UK Chapter of the National Academy of Inventors
The UK Chapter of the National Academy of Inventors (NAI) launched in March 2018. By forming a local chapter, we can recognize and honor UK innovators who translate their research into inventions that may benefit society. The chapter also serves as a tool to celebrate leaders who foster and nurture innovation at UK.
Membership Criteria:
Any UK faculty, staff or student who is a named inventor on 10+ University of Kentucky Research Foundation patents issued by the US Patent & Trademark Office or someone being honored for their leadership in innovation.
2019 UK Chapter Inductees:
2018 UK Chapter Inductees (Inaugural Class):
*Honorary members
**2017 NAI Fellow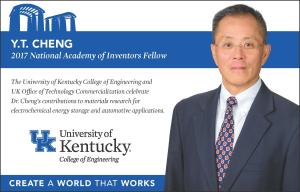 The first class will be inducted at our annual Patent Palooza event on March 27, 2018. 
Membership in the NAI is available through local university chapters only. Chapter members are automatically enrolled as members of the NAI, with all rights and privileges thereof.
For more information, contact Jacqui Greene.

The NAI is dedicated to enhancing the visibility of academic technology and innovation and encourages the disclosure of intellectual property. At the national level, the NAI honors academic invention through it NAI Fellows program. Currently there are 757 Fellows worldwide, at more than 229 universities and governmental and non-profit research institutes. Collectively, they hold over 26,500 U.S. patents, which have generated over 9,400 licensed technologies and companies, created more than 1.3M jobs, and generated over $137B in revenue.
The NAI also publishes a journal, Technology, Technology and Innovation (T&I). It is a forum for presenting information encompassing the entire field of applied sciences, with a focus on transformative technology and academic innovation. As a part of their mission to honor academic invention, they feature an article from the United States Patent and Trademark Office (USPTO) and a profile of a Fellow of the National Academy of Inventors® in every issue.
The University of Kentucky was named one of the 2016 Top 100 Worldwide Universities Granted U.S. Patents, by the National Academy of Inventors. We are ranked #69, up from #92 in 2015. The list is based on data obtained from the U.S. Patent and Trademark Office, for patents granted during the 2016 calendar year. The list is meant to highlight the vital role patents play in university research and innovation. Click here for the press release.
Learn more about NAI.