UK Sustainability Student Poster Contest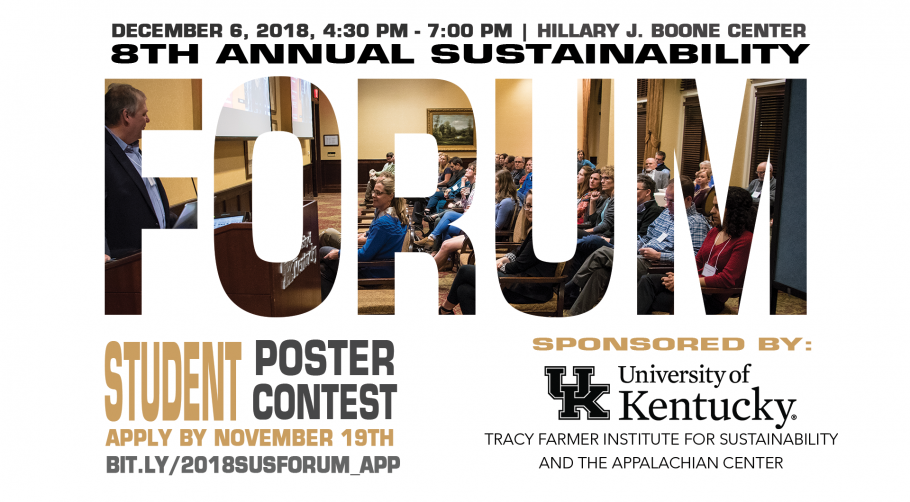 For the eighth consecutive year, the Sustainability Forum at UK has celebrated the accomplishments of UK faculty and students who conduct interdisciplinary research and other forms of scholarship relating to environmental and sustainability issues. We are currently requesting proposals for this year's exhibition. Undergraduate and Graduate student poster presenters are eligible for competition with cash awards given to the top poster presenters.
Sustainability Challenge Grant Program
2019 Recipients to be Announced Dec 6th
Sustainability Challenge Grant Program awards will be presented at the 8th Annual Sustainability Forum on December 6, 2018 at 6:30 PM, preceded by a poster session featuring 2018 grant recipients. Total project funds for 2019  are $200,000 with individual projects to be funded in amounts ranging from $10,000 to $50,000.  For more information visit the Sustainability Challenge Grant home page.
-Tree Week-
Urban Trees took center stage October 6-14th 2018 during Lexington's first ever Tree Week.
The Urban Forest Initiative, a working group of the Tracy Farmer Institute for Sustainability and the Environment, partnered with academics, local arborists, community groups, members from the Lexington Fayette Urban County Government, the Kentucky Division of Forestry and others to organize Tree Week events...
- Community Engagement-
Annually, TFISE supports a week long series of events dedicated to water resources, education and outreach. This Oct 13th-19th 2018 the theme was community engagement with a focus on the many ways  individuals, communities and water professionals can act to ensure safe sustainable drinking water now and in the future.