Sustainability Intern, videographer and talented storyteller, Hannah Phillips (Class of '20) created a video about Design Week 2018, which is a multidisciplinary project that seeks to promote student engagement in our local communities while providing unique experiential education in sustainable design practices.
2019 Projects
Sutainability Challenge Grants
Funding was announced for seven projects in 2019 at the 8th Annual Sustainability Forum in December. The winning projects are:
Improving Bicycle Infrastructure Using SPIN Bike-Share Trip Data ($27,500) 
Nature Playscape and Native Landscape at the Child Development Center of the Bluegrass ($36,000) 
Just Food: Engaging UK in Racially Equitable Food Systems Development ($34,648) 
Tree CATS ($19,871) 
Sustainability Module for First Year Experience  ($11,000) 
Organic Waste Composting Pilot Project ($36,094) 
Kentucky Integrated Biorefinery ($34,887) 
 For more information and project abstracts visit the Sustainability Challenge Grant home page.
UK Sustainability Student Poster Contest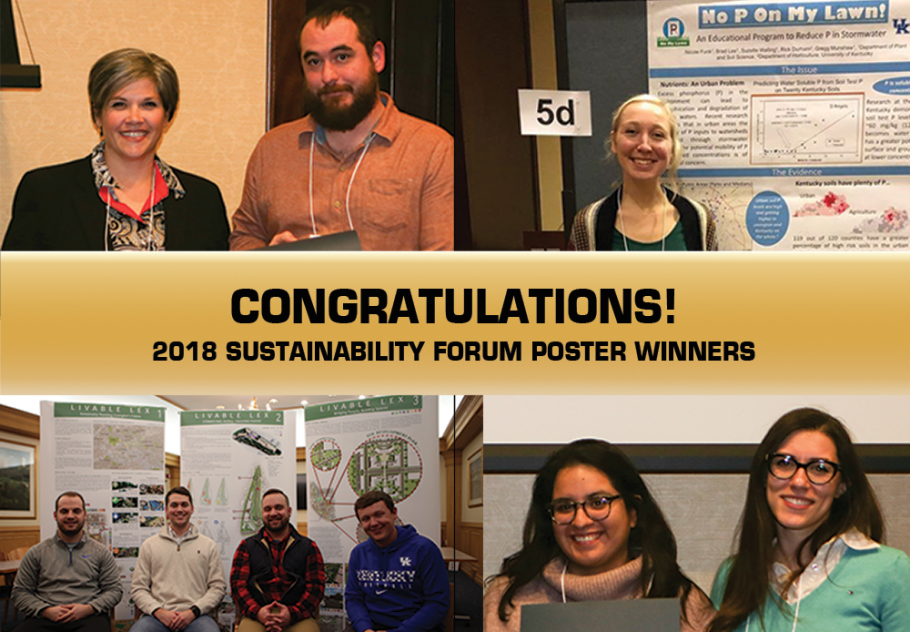 For the eighth consecutive year, the Sustainability Forum at UK has celebrated the accomplishments of UK faculty and students who conduct interdisciplinary research and other forms of scholarship relating to environmental and sustainability issues. The  recipients of student poster contest are:
 Graduate Student Category ($300 Prize)
1.) Adam Baker, Building a Better Monarch Waystation, (pictured top left).
2.) Izabela Gomes & Yaziri Gonzalez, Supporting Food Production through Extension in an Amish Community and Educating New Agricultural Professionals in Kentucky, (pictured bottom right).
3.) William Bond, The Forestry Reclamation Approach: Measuring Sediment Mass Accumulation Rates in Reclaimed Mine Lands and Naturally Regenerated Logged Forests in Eastern Kentucky, (not shown).

Undergraduate Student Category ($200 Prize)
1.)David Toda, Joseph Browning, Justin Bambach and Griffin Johnson, Livable Lex: Sustainably Planning Lexington's Future, (pictured bottom left).
2.) Nicole Funk, No P On My Lawn!: An Educational Program to Reduce P in Stormwater, (pictured top right).