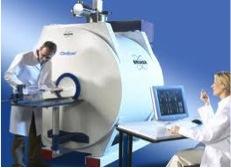 The MRISC is equipped with a new 7T Bruker BioSpec, small animal, MRI scanner.

This scanner is ideally suited for translational research with the capability to employ perfusion, diffusion tensor, anatomical, contrast, multinuclear spectroscopy, and functional techniques. We have experience imaging the heart, brain, spine, fat, lungs, vascular system, and cancer. 
An additional closed cycle, 14K cryocoil (above right image) provides a factor of a 2.5 to 5.3 increase in sensitivity for relevant applications.