AHA awards UK's Daugherty $1 million to study new heart disease treatments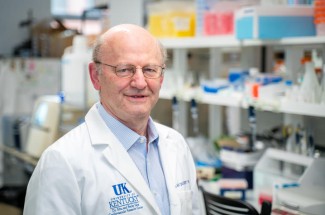 A University of Kentucky research scientist studying ways to repair damaged major vessels with medication rather than surgery has received the American Heart Association Merit Award.
Alan Daugherty, Ph.D., D.Sc., the associate vice president for research, director of the Saha Cardiovascular Research Center and Saha Aortic Center, and chair of physiology at the UK College of Medicine, has been named as one of two nationwide recipients of the American Heart Association Merit Award and will receive $1 million for a five-year research project.
Daugherty's research will focus on identifying and testing the effects of new drugs to treat diseases of the aorta, the largest blood vessel in the body. It carries blood away from the heart and helps other major arteries deliver oxygen-rich blood to the brain, muscles and other cells of the body.
When a problem occurs with the aorta, the heart and the entire body's blood supply can be put at risk. This is particularly the case with an aortic aneurysm, a weakened or bulging area on the wall of the aorta. These expanded areas can weaken, rupture or tear, creating a critical situation that can be deadly without immediate intervention. The American Heart Association's 2023 Heart and Stroke Statistical Update cites that more than 9,000 people die each year of aortic aneurysms.
"While there have been major advancements in surgery to repair damaged aortas, there is an obvious desire to replace these complicated operations with a medication-based approach," Daugherty said. "Our work will evaluate whether approaches using existing and new medications will slow the aortic expansion progression. We'll explore novel avenues of treatment to provide better options for the many individuals afflicted with these diseases."
The AHA's Merit Award supports highly promising, novel research that has the potential to move cardiovascular science forward quickly, with high impact.
"The Merit Award program is a way to recognize and support researchers who offer innovative insight and approaches to address emerging challenges in the treatment of cardiovascular disease," said volunteer president of the American Heart Association Michelle A. Albert, M.D., who is the Walter A Haas-Lucie Stern Endowed Chair and professor of medicine, director of the CeNter for the StUdy of AdveRsiTy and CardiovascUlaR DiseasE (NURTURE Center) and associate dean of admissions at the University of California, San Francisco. "I was honored to be a 2018 recipient of this award, and it offered me an exceptional opportunity to undertake critical work with the potential to make a tangible difference in people's lives. I'm confident this year's recipients will bring forward transformative science in our fight against heart disease and stroke."
Anthony Rosenzweig, M.D., director of the Institute for Heart and Brain Health at the University of Michigan Medical School, is the other Merit Award recipient. He will explore the mechanisms of how exercise can heal heart muscle and brain tissue following a heart attack or stroke.
The AHA has funded more than $5 billion in cardiovascular, cerebrovascular and brain health research since 1949, making it the single largest non-government supporter of heart and brain health research in the U.S.