Office of Research Integrity (ORI)
ORI supports the institution in promoting ethical conduct of human research and educating University of Kentucky (UK) faculty, staff, and students regarding human research compliance and research ethics.  
ORI provides research support services including IRB review, policy development, web-based IRB submission (E-IRB), HIPAA/FERPA research reviews, protocol review management, ethical and regulatory education, quality improvement review, reliance agreement management, and research misconduct prevention and allegation management. ORI provides support for six federally mandated review committees: four Medical and one Nonmedical Institutional Review Boards (IRB), and the Radioactive Drug Research Committee (RDRC).  

The UK Human Research Program is fully accredited by the Association for the Accreditation of Human Research Protection Program (AAHRPP). 
UK Human Research Protection Program (HRPP) Comprehensive Plan (PDF, 22 pgs)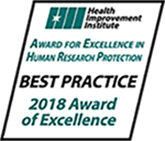 In December 2018, the University of Kentucky Office of Research Integrity (ORI) won an Award of Excellence for Best Practice in Human Research Protection for the "Informed Consent Workshop: From Perception to Process." The four-hour, hands-on workshop assists researchers in adopting new informed consent rules. Read more…