Call for posters: UK Sustainability announces research poster competition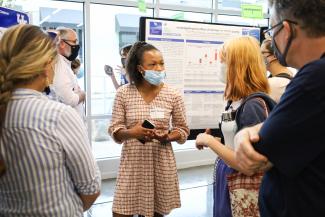 University of Kentucky graduate and undergraduate students are invited to submit an abstract and poster in the second annual sustainability research poster competition held in conjunction with the annual UK Sustainability Showcase on Oct. 18.
Posters must be related to the United Nations' 17 Sustainable Development Goals (SDGs). The SDGs recognize that ending poverty and other deprivations must go hand-in-hand with strategies that improve health and education, reduce inequality and spur economic growth — all while tackling climate change and working to preserve our oceans and forests.
The UK Student Sustainability Council and the Office of Undergraduate Research are partnering to offer an opportunity for students in all majors to submit their sustainability-related research as a poster for a general audience.
"Sustainability has far-reaching implications across the globe, and critical work at UK is making significant impact," said Chad Risko, faculty director of the Office of Undergraduate Research. "We are pleased to partner with UK Sustainability to promote and showcase the outstanding research endeavors or our students in this area, demonstrating the leadership position of UK in the efforts to enable a more sustainable future."
Judges with relevant expertise will review all posters and winners will be selected in both undergraduate and graduate categories.
Students can present their posters during the UK Sustainability Showcase, which opens at 5:30 p.m. in the atrium of the Healthy Kentucky Research Building (HKRB) on Oct. 18. The showcase will feature highlights from programs and initiatives across campus, and more information can be found here.
First place ($250), second place ($150) and People's Choice ($100) awards will be presented to winners during a special awards ceremony at 6:30 p.m. The winners of the UK Sustainability Challenge Grants will also be announced.
The submission deadline is Oct. 1.
Posters will be judged according to the following criteria:
● content (poster demonstrates clarity of topic, objective and background)
● motivation for research and technical relevance to sustainability
● methodology and approach to problem
● quality of proposed research results/findings
● conclusions are supported by information presented
● poster presentation (display aesthetics and logical flow between sections)
● understandability (poster is effective even without student explaining it)
● overall rank versus other posters in each category
More information, including registration and submission guidelines, is available here.