UK Study Provides Evidence for a 7-Day Quarantine for University Students Exposed to COVID-19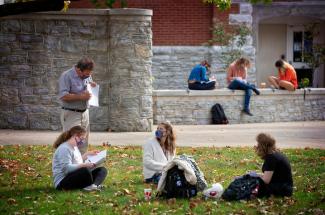 A new University of Kentucky study provides direct evidence for a testing strategy that could be used to support a shortened period of quarantine for university students who are exposed to the virus but are asymptomatic. The study is now available on the preprint server medRxiv and is pending journal review.
Working with UK HealthCorps, researchers in the study enrolled 101 asymptomatic students in quarantine following COVID-19 exposure, and 90 students completed surveys and testing. Nasopharyngeal swabs for COVID-19 were given to the students on days three or four, five, seven, 10 and 14 of their quarantine.
Of the 90, 14 (16%) had at least one positive test while in quarantine, but no eligible students received an initial positive test on day 10 or 14. In this study, all eligible students who developed a COVID-19 infection were positive by day seven post-exposure.
Adherence to current quarantine times is poor. While the Centers for Disease Control and Prevention (CDC) still recommends a 14-day quarantine following COVID-19 exposure, the agency recently said that among asymptomatic individuals, a 10-day quarantine – or seven-day quarantine with a negative test result – is acceptable, based on modeling studies.
Jill Kolesar, administrative director of UK's Precision Medicine Clinic and principal investigator of the study, notes that this is the first prospective study to support the idea of shortening the quarantine window in certain asymptomatic individuals and could be beneficial to college students struggling with isolation. One in four college students receive treatment for anxiety or depression, and the decreased social interactions during the COVID-19 pandemic have exacerbated the problem.
"This study supports the idea, consistent with CDC recommendations, that seven days of quarantine with a negative test may be an adequate quarantine period for young adults in the university setting," said Kolesar, a professor in the UK College of Pharmacy. "Isolation, including a prolonged quarantine, may have significant negative impacts on college students' mental health. Shortening that window could be beneficial for our students. We hope our study helps institutions make decisions, along with CDC guidelines and guidance from local public health departments, as they consider the potential risk of shorter quarantine periods, student well-being, and consideration of local circumstances in this evolving pandemic."
UK President Dr. Eli Capilouto praised the UK faculty, staff and students who worked together to complete the study, which will provide critical information for UK's COVID-19 guidelines in the spring.
"The START study brought together a diverse team of researchers from the Colleges of Medicine, Pharmacy, and Public Health; UK HealthCare and the Markey Cancer Center; and UK HealthCorps, who worked tirelessly to complete this critical study in less than three months," Capilouto said. "We are grateful for their efforts, which will inform our spring semester quarantine policies. Our students should be recognized for their contribution to this important study, too. Not only did they quarantine for 14 days, they had repeat testing only to help their fellow students. Their willingness to participate shows that we are a community that cares deeply — for each other and for the larger UK community."
This project is driven in part by UK's Serologic Testing to Accelerate Recovery and Transition (START) team, and launched in June 2020 to determine the prevalence of COVID-19 in Kentucky through antibody testing. The study was amended in September 2020 to add the student quarantine cohort. This study was funded by the National Cancer Institute's Cancer Center Support Grant and statistical analysis for the study was provided by the UK Markey Cancer Center.