Annual Symposium Explores Advancements in Women's Heart Health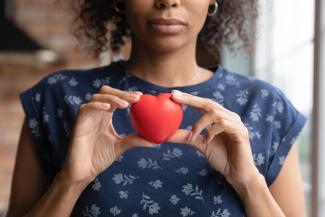 Heart disease is the leading cause of death among women in the United States. More than 4,800 women die each year from heart disease in Kentucky. Nationally, women are dying every 80 seconds from cardiovascular disease and stroke, which they are less likely to survive than men. Women are also more likely to delay seeking treatment and are often not diagnosed until after they have had a cardiac event.
Two University of Kentucky researchers are pushing for more awareness of women's heart health, as well as working to support other researchers and physicians to collaborate and share their findings within and beyond the University of Kentucky.
Analia Loria Kinsey, Ph.D., and Frédérique Yiannikouris, Ph.D., from UK's Department of Pharmacology & Nutritional Sciences, created the Healthy Hearts for Women Symposium, first launched in 2015. This year's symposium will be held virtually on Feb. 4, 2022.
The goal of this 8th symposium is to raise awareness about cardiovascular disease risk in women. Although cardiovascular disease is the leading cause of death in women, they remain underrepresented in cardiovascular research. The symposium will highlight new scientific advances in women's heart health, explore areas in translational cardiovascular research to better understand underlying mechanisms of cardiovascular disease and examine new treatment options for women with cardiovascular disease.
"There are many important differences between men and women with regard to heart disease," Loria-Kinsey said. "It's critical to consider sex as a biological variable in heart disease to better understand the cause and effect as part of the process to find better and more adapted treatment."
Loria-Kinsey believes each year, the symposium spurs thinking in study design. Updates in research allows for a continuous discovering of new mechanisms that may translate in novel and more effective therapeutics to fight cardiovascular disease in women, she added.
Yiannikouris' ultimate goal is to bring physicians and scientists together to exchange new skills, knowledge and recent advances in cardiovascular research to improve and speed up the research and health care of women.
The symposium will be held virtually and is free and open to the public. Presenters include Rhian Touyz, Ph.D., McGill University (Canada); Erin Michos, M.D., Johns Hopkins University; Sanda Despa, Ph.D., University of Kentucky; Tochukwu Okwuosa, M.D., Rush University Medical Center; and Amit Arbune, M.D., University of Kentucky.
Click here to register for the event.
The symposium is sponsored by the Department of Pharmacology and Nutritional Sciences in the UK College of Medicine, the Gill Heart & Vascular Institute, Markey Cancer Center and Saha Cardiovascular Research Center, as a demonstration of UK's commitment to address this health disparity.