Barnstable Brown Diabetes and Obesity Research Series a Success in Virtual Format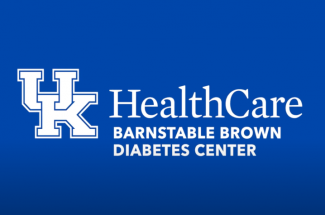 Like most events that have taken place during the past several months, the University of Kentucky Barnstable Brown Diabetes Center's annual Obesity and Diabetes Research Day went virtual for the first time and expanded from a research 'day' to a research 'series.' Organizers say they were pleasantly surprised by the attendance with as many as 120 participants in one session alone.
"We were able to stretch out our speakers over a month, and therefore, there was a means to engage with our faculty and trainees each week to learn from our guest speakers. This was in excellent alignment with National Diabetes Month," said Dr. John Fowlkes, director of the Barnstable Brown Diabetes Center.
While the landscape of the event changed, the focus and overall program stayed the same, highlighting the work of students, postdoctoral fellows, and faculty from around the region. This year's event featured several well-respected speakers, along with the poster presentations which gave an opportunity for rich dialogue among the faculty, staff, and students.
2020 marked the 10th anniversary of the event. Fowlkes says they received many positive responses and that having the event helped provide some sense of normalcy. "It was important to make the event happen despite a pandemic," he said. "All our speakers, who had planned to come to Lexington, were very gracious to change their presentations to a virtual format."
The research series featured four invited speakers: Dr. Robert H. Eckel, president, American Diabetes Association; Dr. Ana Maria Arbeláez, Washington University School of Medicine; Maureen Gannon, Ph.D., Vanderbilt University Medical Center; Dr. Emil R. Unanue, Paul & Ellen Lacy Professor, Washington University School of Medicine.
More than two dozen posters competed for judged awards. Recipients of poster awards were:
Faculty, 1st place – Yasir Alsiraj / UK Department of Pharmacology and Nutritional Sciences
Fellow, 1st place – Mark Slayton / Ohio University
Staff, 1st place – Charles Ensor / UK Department of Pharmacology and Nutritional Sciences
Student, 1st place – Shayan Mohammadmoradi / UK SAHA Cardiovascular
Student 2nd place – Jacqueline Leachman / UK Department of Pharmacology and Nutritional Sciences
Student 3rd place – Oluwabukola Omotola / UK Biology Pendergast
Student 4th place – Lucy Yanckello / Department of Pharmacology and Nutritional Sciences
Due to the success of an expanded research series in a virtual format, Fowlkes says they will do it again in November 2021.