Barnstable Brown event to recognize excellence in diabetes and obesity research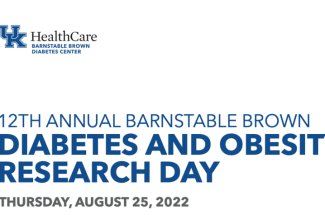 The 12th annual Barnstable Brown Diabetes and Obesity Research Day is taking place this week on the University of Kentucky (UK) campus. The purpose of the event is to focus on current findings in diabetes and obesity-related research.
There are more than four million people in the state of Kentucky. Approximately 15%, or 600,000 Kentuckians, have diabetes. Kentucky ranks fifth in the nation for the highest number of residents with the condition. As the state's flagship university, UK is committed to addressing the devastating effects of diabetes and obesity to improve the health and well-being of those in the Commonwealth and beyond.
The research day program will feature presentations by nationally prominent physician-scientists, as well as regional researchers chosen from abstract submissions.
"The Barnstable Brown Diabetes and Obesity Research Day is an amazing opportunity to showcase the outstanding research conducted here at the University of Kentucky," said Simon Fisher, M.D., Ph.D., acting director of the Barnstable Brown Diabetes Center. We have invited the nation's thought leaders here to Kentucky to discuss the latest breakthroughs in diabetes and metabolism research. This annual event provides our scientists with a valuable opportunity to establish collaborations, practice their communication skills, receive feedback on their research and get inspired."
The lineup of speakers for this year's research day includes three invited guest speakers: Samuel Dagogo-Jack, M.D., division chief and professor, Department of Medicine, Division of Endocrinology University of Tennessee Health Science Center; Kristen Nadeau, M.D., professor, Department of Pediatrics, University of Colorado Anschutz Medical Campus; and Joel Elmquist, D.V.M., Ph.D., professor, Department of Internal Medicine, Pharmacology, Psychiatry University of Texas Southwestern Medical Center.
In addition to the speakers visiting campus, those at research day will also hear from a few of UK's own. Vice President of Research Lisa Cassis, Ph.D., will give introductory remarks followed by a Barnstable Brown Diabetes Center and research priority area update by Fisher. Attendees will also participate in live poster sessions highlighting the great work in research by our students, staff, fellows and faculty.
Following the day's presentations and other academic sessions, a reception and awards banquet will take place to recognize the outstanding science of the day. It will also serve as an opportunity to thank members of the Barnstable Brown family, who gave the founding donation to establish the center and remain avid fundraisers to support its work. Also at the reception, the Frederick and Maria de Beer Award for outstanding faculty will be presented.
Research day events are scheduled to begin at 9 a.m. Thursday, Aug. 25. Events are taking place in the Healthy Kentucky Research Building and the Lee T. Todd Jr. Building.