The Black Family: Representation, Identity and Diversity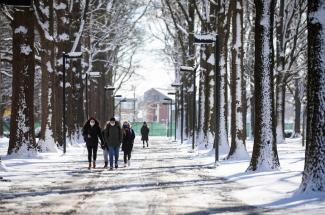 Carter G. Woodson was born in 1875 – 10 years after the 13th Amendment was passed by the United States Congress. However, despite the ratification of the 13th Amendment, the struggle for civil rights would persist during the turbulent years of the Reconstruction era and beyond. Woodson – along with countless other Black individuals – came of age during those uneasy years.
Woodson's family lived on a farm in Virginia. His parents were formerly enslaved and were denied the opportunity to learn how to read and write. Growing up, intensive field work and various jobs prevented Woodson from attending school most days. Still, he was driven by an unrelenting desire to learn. Woodson graduated high school in two years at the age of 22 and started working toward his undergraduate degree at Berea College right here in Kentucky.
While attending college, Woodson served as his high school alma mater's principal, and it became abundantly clear that he was passionate about the power and importance of education. After graduation, Woodson spent three years as a school supervisor in the Philippines before returning in 1908 to earn a master's degree from the University of Chicago. Four years later, he earned a PhD in history from Harvard University, becoming the second Black man to do so after W.E.B. Du Bois.
His experience as a student fueled his life's work when he noticed a missing history. Woodson would become one of the first scholars to study the history of the African diaspora and African American history. He wrote, "What we need is not a history of selected races or nations, but the history of the world void of national bias, race hate, and religious prejudice."
In 1915, Woodson and several friends established the Association for the Study of African American Life and History (ASALH). Later, in 1926, he designated the second week of February the "Negro History Week" to coincide with the birthdays of Frederick Douglass and Abraham Lincoln. This week was an opportunity to teach Americans about Black history and celebrate the invaluable contributions of Black Americans – contributions that are integral parts of American history.
Eventually, by the late 1960s, the week had expanded and evolved into Black History Month on college campuses across the nation, leading President Gerald Ford to officially recognize it as a holiday in 1976. Since then, the ASALH has identified a theme for Black History Month each year, and this year's theme especially resonates with Carter G. Woodson's passions and pursuits.
The Black History Month theme for 2021 is, "The Black Family: Representation, Identity, and Diversity." Throughout the centuries, the Black family's representation and identity have been revered and stereotyped. It knows no single location, and genetic-ancestry searches and family reunions show the spread of Black families across states, nations and continents. It's not just individual Black families that are diasporic – Africa and the diaspora itself have been portrayed as the Black family at large. According to the ASALH, "The family offers a rich tapestry of images for exploring the African American past and present."
This February, we celebrate Black families. And in doing so, we celebrate the rich tapestry of our collective history.
Sources:
ASALH Theme: https://asalh.org/black-history-themes/
https://asalh.org/wp-content/uploads/2020/10/2021Theme.pdf
Carter G. Woodson quote from "The Celebration of Negro History Week" in The Journal of Negro History
Other sources:
National Museum of African American History and Culture: https://nmaahc.si.edu/blog-post/knowing-past-opens-door-future-continuing-importance-black-history-month
NAACP: https://www.naacp.org/naacp-history-carter-g-woodson/