CAER Receives DOE Grant to Support STEM Education Program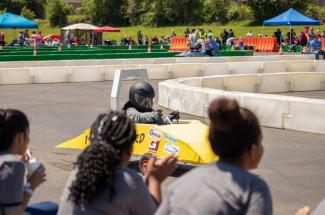 The University of Kentucky Center for Applied Energy Research (CAER) was one of nine organizations to receive U.S. Department of Energy State Energy Program (SEP) grants, Kentucky Gov. Andy Beshear and Energy and Environment Cabinet (EEC) Secretary Rebecca Goodman announced last week.
The state announced that more than $600,000 in grants will support Kentucky education, reduce the energy burden in low income communities and improve energy security. The federal program provides annual funding to enhance energy security, advance state-led energy initiatives and maximize the benefits of decreasing energy waste.
"Even as we are doing everything that we can to protect the ones we love during the coronavirus, these grants will enable Kentuckians to make better choices that will save them money and lead to a more sustainable energy future," Gov. Beshear said.
CAER received $182,000 to support its electric vehicle STEM project in fourth through sixth grade classes across Kentucky. CAER will be partnering with schools across Kentucky to provide this unique, hands-on STEM education opportunity. As part of the program, Kentucky students will design, construct and ultimately competitively race a one-person electric vehicle. The first race is planned for the spring of 2021. CAER will additionally be recruiting middle schools for the following year. The program will operate under the name Gen-EV Racing.
"We are pleased to announce these new initiatives that provide long-term benefits to the citizens of Kentucky," said Sec. Goodman. "Affordable electricity is a primary driver of our economy and essential for the wellbeing of everyone. Now more than ever in this time of the coronavirus pandemic, it is important to ensure continuing affordability and resilience of Kentucky's energy resources, and to invest in energy education that integrates new technologies and practices in areas that support our infrastructure and families."