College of Nursing Researchers Release "Fight the Crave" Comic for Smoking Cessation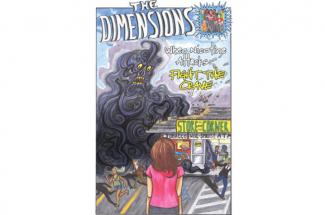 March 20 is National Kick Butts Day, a time to raise awareness of the health effects of cigarettes and nicotine products and take action to lower one's risk. People living with mental illness use tobacco at higher rates than the general population. With the recent COVID-19 pandemic, healthcare providers are seeing heightened levels of mental illnesses and an increasing number of people needing mental health support. Thus, the need for improved mental health education and the normalization of mental health seeking behaviors are extremely important.
Kentucky leads the nation in the number of new cases and deaths from lung cancer. While tobacco use among people without serious psychological distress has decreased from 24.1% to 18.2%, tobacco use among people with serious psychological distress has only gone from 43.6% to 42.1%. Tobacco use among individuals living with schizophrenia, bipolar disorder and other serious mental illnesses is even higher, up to 70% in some cases.
Individuals who use tobacco are more likely to die as much as ten to 25 years earlier, experience more depression and anxiety, have more heart and breathing challenges and are more likely to die by suicide. While some people believe that tobacco use can calm anxiety and help recovery, tobacco use actually hinders recovery.
Researchers in the UK College of Nursing created "When Nicotine Attacks: Fight the Crave" comic book. This is the first of eight in a series that focus on how treatment is often tailored to better serve individuals living with mental and behavioral health challenges.
With comic books, researchers and healthcare providers can share what they have learned with people living with mental illnesses who are trying to quit tobacco and other nicotine products in a meaningful and impactful way. It is a way to share real-life solutions based on what is shown to work in a form that is entertaining and fun. In the first comic, more than 50 years of the science of tobacco control is shared as well as the evidence that guides tobacco treatment into relatable characters to support people struggling with the same issues.
If you or someone you love is struggling with tobacco use addiction, specifically if that person is living with a mental illness, treatment and recovery are within reach. Everyone who overcomes an addictive process is a superhero. It takes great inner strength to seek help and receive support to recover from an addiction. We all can lend support to others when the need arises in a way that supports their own path to recovery.
The Behavioral Health Wellness Environments for Living and Learning (BH WELL) research program offers free educational resources to people living with or experiencing mental and behavioral health challenges and to behavioral health care providers. For more information, check out our many mental and behavioral health resources at https://www.uky.edu/bhwell/.