Education professor explores ChatGPT as a tool for research, learning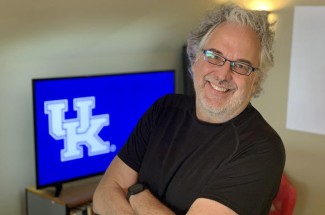 When University of Kentucky faculty member John Nash began an exploration of artificial intelligence's utility in learning, it came as no surprise to the doctoral scholars he advises. His research agenda has long centered on investigating how technology and innovation influence schools and educators.
Although his research is technology-focused, he grounds the work in human connection. As a Design Thinking practitioner, Nash teaches his students the art of interviewing people to uncover unmet needs – leading to the development of user-centered solutions.
Nash started his most recent exploration by encouraging his dissertation advisees to use ChatGPT and chronicled the experience in an article published on LinkedIn.
"Higher education, as we know it, did not end. In fact, it might be better for it," wrote Nash, an associate professor in the UK College of Education Department of Educational Leadership Studies.
ChatGPT did not write the scholars' dissertations. It did, however, assist the students in creating prompts for stakeholder discussions – a key part of uncovering potential challenges that could be addressed in mixed methods action research. ChatGPT came up with questions they alone may not have thought to ask, but are glad ChatGPT did.
While the effort started with artificial intelligence, it resulted in deeper human connection.
"It showed us how AI can complement and enhance human thought and creativity rather than replace it," Nash said.
With a doctoral scholar at a more advanced stage of the dissertation process, ChatGPT was useful in helping draw conclusions and explanations of data – called meta-inferences – that had been collected in an earlier phase of the research.
"We used a draft paragraph of their meta-inferences as a prompt, asking ChatGPT to brainstorm potential actions to address the problem. It produced eight ideas, each with a sentence describing the idea. All were reasonable and feasible and provided a starting point for further discussions," Nash said.
They then used the list of ideas to begin thinking of new ways to converse with study stakeholders.
"This helped the student consider different perspectives, ultimately leading to a more effective diagnosis of the problem and better solutions," Nash said. "There is great power in having human stakeholders continue to discuss and refine problems and solutions. However, I think we are only beginning to discover how much our work and creativity can be complemented by artificial intelligence applications such as ChatGPT. It definitely serves a purpose for us in education."
Nash was not trying to replace human teachers or advisors with ChatGPT. Rather, he was trying to enhance the learning process by introducing AI to provide new perspectives and push past inertia.
"I think ChatGPT is a powerful tool that can stimulate our curiosity and creativity," he said. "It is also a tool that requires us to be more responsible and reflective as researchers and writers. But as a partner in brainstorming, particularly in domains where one is already expert, it's valuable."
Nash founded the Laboratory on Design Thinking (dLab) in 2011. A brief documentary recently showed design thinking problem-solving in action in one of Nash's College of Education courses. He has also explored how ChatGPT could play a role in this type of work.
"ChatGPT is not human-centered by default," Nash said. "It does not know who we are or what we need or want. It just responds based on its algorithms and data sets. But I hypothesized I could use ChatGPT as a way to teach my design thinking students to become better empathetic interviewers."
Nash experimented with different ways of interacting with ChatGPT, such as asking it to become a deliberate practice partner, teaching students how to have empathetic conversations with people. He prompted ChatGPT to be the teacher, giving feedback on how well formed the interview questions were that he posed to the AI model.
"I learned that ChatGPT can behave like a design thinking tutor, reminding learners that they should ask open-ended questions, reflect on the responses I receive and use that reflection as the basis for choosing my next question," Nash said.
The responses were surprising in that they were of a quality he might provide his own students with if he were training them. He also noticed that any flaws in ChatGPT's responses were more due to the quality of the prompts he engineered than the fault of ChatGPT's modeling.
"This broadens my thinking on how AI can enhance my creativity and effectiveness as a teacher," Nash said. "Even at this early stage, I have new interactive ways of teaching tricky skills to my students. That's exciting to me."
Nash plans to continue using ChatGPT with his students and sharing his findings with others. He hopes that his experiment will inspire more educators and researchers to explore the possibilities and implications of conversational artificial intelligence for teaching and learning.