Environmental, Nursing Researchers Help Teen 'Citizen Scientists' Lead Charge in Home Radon Testing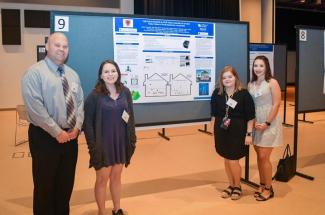 Radon is a naturally occurring radioactive gas that seeps up from the ground and into homes, schools, work sites, and other indoor spaces. Radon is colorless, tasteless and odorless and can cause lung cancer; you would have no way of knowing if it has infiltrated your home unless you test for it. Yet, few people test for the radioactive gas.
A group of high school students and their teachers in eastern Kentucky and southern Ohio are hoping to change that.
Researchers at the University of Kentucky Center for Appalachian Research in Environmental Sciences (UK-CARES), UK College of Nursing's Bridging Research Efforts and Advocacy Toward Healthy Environments (BREATHE), and the University of Cincinnati (UC) Center for Environmental Genetics (CEG) developed and pilot-tested a family-centered, youth-engaged home radon testing toolkit and trained high school students as "citizen scientists" to educate their parents about the dangers of radon and how to test for it. The paper was recently published in the International Journal of Environmental Research and Public Health's special issue on Community-Based Approaches for Reducing Health Inequities.
"This novel pilot study engaged youth and their teachers to help us promote home radon testing, improve indoor air quality in the home with the ultimate goal of preventing lung cancer," said Ellen Hahn, principal investigator, professor of Nursing and director of UK-CARES.
Though the use of tobacco contributes to the majority of lung cancer cases, radon is the second leading cause of lung cancer, accounting for ten to 15 percent of cases. The risk of lung cancer increases when radon is present in the home and in other indoor spaces. In outdoor spaces, radon is present in very low concentrations, but when it is trapped inside, the radioactive gas accumulates and it can cause harm. Breathing radon is dangerous for everyone, but it is more harmful when exposed to radon and tobacco smoke. The combination of high rates of tobacco use in rural Kentucky and Ohio, the prevalence of radon and low testing rates in those areas put residents at higher risk for lung cancer. Lifetime risk of radon-induced lung cancer is 62 per 1,000 ever smokers compared to seven per 1,000 people who have never smoked.
"We have the perfect storm for lung cancer in rural Appalachia; high rates of tobacco use, high radon risk potential, and excessive exposure to tobacco smoke, puts our people in danger of developing lung cancer," said Hahn.
High school students recruited through UK-CARES and UC's Center for Environmental Genetics were trained to provide radon information to parents and other homeowners, recruit them to test their homes for radon, and report back findings to study participants. They conducted surveys of homeowners, assessing the perceived seriousness of illnesses caused by radon, the likelihood of radon being in the place they live and the perceived risk of lung cancer in their lifetime. Homeowners were given at-home radon test kits to assess their home's air quality and were provided information about the next steps for mitigation should the reported level of radon exceed the Environmental Protection Agency's (EPA) action level (> 4.0 pCi/L or picocuries per liter).
Craig Wilmhoff, coauthor and teacher at Perry County Central High School at the time of the study had worked with Hahn on a previous project and was excited for his students to once again have the opportunity to participate in research.
"The students absolutely love doing the research," said Wilmhoff. "They love doing things that actually impact the community and gives them real life experience for them, not just learning something from a book. It was great to get the students involved this study in particular because they and their parents knew very little about radon, what exposure to radon could do to them and how it was tied to lung cancer. They were actually able to educate themselves, their families and their community."
Previous studies have found that engaging youth in the community promotes youth empowerment and enhances the relationship between communities and academic institutions. In the pilot study, nearly three in 10 high school students had parent permission to become citizen scientists and join the research team, and over half returned a radon test kit that yielded valid results. The authors concluded that 'engaging youth in citizen science can provide an opportunity to promote community-engaged research and outreach that may not be available by using more traditional research methods.'
Wilmhoff agrees and says that this experience broadened the horizons of his students. Getting to work with researchers and seeing how these projects can impact their communities has some students considering careers in science and healthcare.
"The students were highly interested and motivated to work with the UK researchers to attack lung cancer in Appalachia," said Wilmhoff. "Cancer is a key concern in our community,"
Research reported in this publication was supported by the National Institute of Environmental Health Sciences of the National Institutes of Health under Award Numbers P30ES026529 and P30ES006096. The content is solely the responsibility of the authors and does not necessarily represent the official views of the National Institutes of Health.
January is National Radon Awareness Month (#NRAM2021). The Environmental Protection Agency and the US Surgeon General recommend that all homes be tested for radon. Click here for more information about radon testing and to request a free at-home test kit. Click here for more information about radon and testing by county in Kentucky. Follow UK BREATHE's Radon Program @UkyRadon.