Female Patent Holders Spotlight Commercialization at UK
Patents are a critical step in protecting discoveries made in the lab on the journey to become life-changing products or treatments. UK women are leaders in commercialization, and three of them share their perspective, as UK's top female patent holders, as part of UK Research's "Women Making History" series.
Linda Dwoskin, Ph.D., is an endowed professor in pharmaceutical education in the College of Pharmacy. She also serves as senior associate vice president for research for special projects in the Office of the Vice President for Research. She holds 24 patents, with two more patent applications pending. Dwoskin develops novel therapeutic candidates to treat psychostimulant use disorders, specifically for nicotine and methamphetamine use disorders. 
"Patenting of our innovative research findings is the first important step to taking our discoveries forward to commercialization as novel products that have significant positive impact on the lives of persons in Kentucky and worldwide," Dwoskin said. "UK continues to do an amazing job working with and supporting academic innovators to help them reach their goals of having an impact on health and the economy."
Sylvie Garneau-Tsodikova, Ph.D., is a professor and associate vice president for research in the Office of the Vice President for Research. She holds five patents, with five more pending, and her research focuses on the biosynthesis of nonribosomal/polyketide antibiotics, and new molecules to combat bacterial and fungal resistance.
"The reason I work towards discovering and developing new anti-infective agents is first and foremost to help people stay healthy," Garneau-Tsodikova said. "In order to do so, it is critical that the work my team does at the bench ultimately gets to the patients. Without taking our discoveries into commercialization, this would be impossible. Thankfully the Office of Technology Commercialization (OTC) at UK is there to help make my dreams of helping to improve people's health come true."
Garneau-Tsodikova said, "The University of Kentucky is by far the most supportive place for women researchers who desire to commercialize their discoveries. Not only do people in the OTC help with your patent applications, they also help you prepare to pitch your products to potential investors and help you learn how to start your own company. They make what could be a very intimidating process for someone without prior experience, an enjoyable process."
Aman Preet Kaur, Ph.D., a research assistant professor in chemistry in the College of Arts and Sciences, holds five patents, all with her former mentor Susan Odom.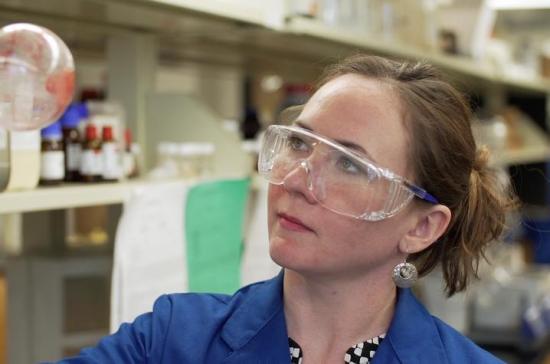 Odom, an associate professor of chemistry, died April 18, 2021, when a tragic accident took her from the University of Kentucky family. With 10 patents from her discoveries at UK, Odom's research lives on through many who worked with her.
Kaur said, "I was introduced to energy research, and specifically lithium-ion batteries, as a side project during my Ph.D. The experience I gained in this project allowed me to pursue postdoctoral research on batteries in the Odom group. Here, I got an opportunity to work with scientists and engineers who were interested in studying non-aqueous redox flow batteries for energy storage applications. 
"Professor Odom always had a sense of competition and a keen interest in taking the science to the market. Professor Odom and I were part of Synblue — the NSF I-Corps team — under the guidance of James Landon, our industry mentor, that explored commercial readiness of the technology we developed. Herein, we got to speak to 100 potential global customers.
"I am one of the ones who worked with Professor Odom for the longest time during her intense research career at UK. She encouraged and allowed me to take charge on several projects. She was perhaps happier than me and considered it a proud moment when I became Research Assistant Professor in her group! I miss her as a mentor and as a friend by my side."
To learn more about innovator support and commercialization at UK, visit UK Innovate.
About "Women Making History"
For Women's History Month, the University of Kentucky is spotlighting women making history on our campus. These women are leading their fields of research, crossing traditional academic boundaries, and impacting Kentucky's most pressing challenges: opioid use disorder treatment, aging and Alzheimer's, water and air filtration, environmental impacts on health, and suicide prevention. They are mentoring the next generation of women scientists and scholars, curating stories and creating artworks illuminating who we are. Their work and voices shape the University of Kentucky. Look for "Women Making History" stories in UKNOW on "Wildcat Wednesday" and every day on UK Research social media (@ResearchKY on Facebook and Twitter and "ukresearch" on Instagram) throughout the month of March.