Graduate Student Congress, UK Libraries Partnership to Celebrate Diversity, Document Graduate Student Experience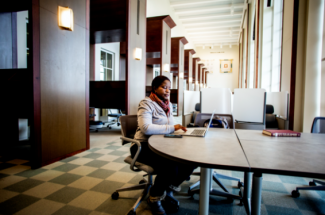 The University of Kentucky Graduate Student Congress is now accepting submissions for the Graduate/Professional Student Virtual Pop-Up Museum: Celebrating Diversity at the University of Kentucky. Created with support from UK Libraries, this project will challenge existing narratives to provide a more complete understanding of the UK graduate student experience by documenting how the personal and cultural identities of currently enrolled part-time and full-time graduate and professional students have impacted their time at the university.
"This project documents the lives and lived experiences of UK graduate and professional students and represents an important contribution to the historical record," earth and environmental sciences doctoral candidate Edward Lo said.
Students are invited to share their stories through oral histories, audio recordings, written stories, diary entries, photographs, videos, art and other artifacts. Submissions may be completed electronically now through April 30 with this form, where students will also be asked to upload a brief description of their artifact. Each participant is welcome to submit multiple entries.
Submissions will be archived in UK Libraries' Special Collections Research Center, and participants will be commemorated on a permanent plaque in the Thomas D. Clark Graduate Study in William T. Young Library.
The Graduate Student Congress is a governing body for graduate and professional students and postdoctoral scholars at the University of Kentucky. The mission of the GSC is to unify and represent graduate and professional students and postdoctoral scholars at UK in matters affecting their quality of life, and to facilitate interdisciplinary collaboration and professional development through seminars, forums, outreach programming, advocacy and community enhancement.
The Special Collections Research Center at UK Libraries sustains the Commonwealth's memory and serves as the essential bridge between past, present and future. By preserving materials documenting the social, cultural, economic and political history of Kentucky, the center provides rich opportunities for students to expand their worldview and enhance their critical thinking skills. Special Collections Research Center materials are used by scholars worldwide to advance original research and pioneer creative approaches to scholarship. UK Libraries' Special Collections Research Center is the Archives, the Louie B. Nunn Center for Oral History, the King Library Press, the Wendell H. Ford Public Policy Research Center, the Bert T. Combs Appalachian Collection, the John G. Heyburn Initiative and ExploreUK.