HEAL, Voices of Hope to Host Transformational Housing Learning Collaborative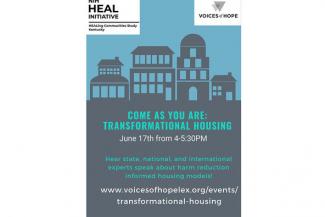 The University of Kentucky's HEALing Communities Study and Voices of Hope are teaming up for the free virtual June Learning Collaborative, "Come as You Are: Transformational Housing." The event will take place 4-5:30 p.m. Thursday, June 17, 2021, and will tackle the topic of innovative, harm reduction-informed housing options for people with substance use disorders.
The event will discuss innovative harm reduction models, such as managed alcohol programs and "Come as You Are" residential programs. Participants will learn about practical strategies for expanding recovery housing for people on medication for opioid use disorder, as well as meet other advocates that are passionate about the topic. Attendees will help make a plan to expand housing options in Kentucky.
The panel includes local, national and international experts, including:
Interested attendees can register online here.