Health sciences students help Lexington Fire Department stay healthy and pain-free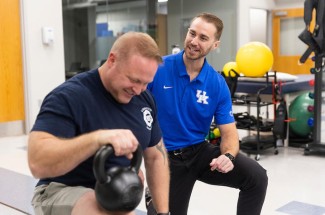 Firefighters across the world risk their lives every day to protect citizen lives, properties and the environment from disasters. Rescue missions and other duties — such as saving a family from a burning building or pulling an injured person out of a vehicle after a collision — can prove to be extremely challenging, especially paired with the grueling schedules they are required to work.
Often referred to as "tactical athletes," firefighters and other first responders encounter much of the same types of injuries that traditional sport athletes do. But, while the average professional athletic career in sports lasts five to seven years, professional firefighters end up exerting themselves physically and mentally for 25 years or more, with no "off-season" to recover from injuries and exertion.
At the University of Kentucky, two graduate students are dedicating their time to help firefighters right here in Lexington. Both having backgrounds in traditional athletic training with sport athletes, they're taking their expertise and expanding it to this very in-need group.
"There's only a handful of fire stations in the nation that have an actual medical model," said Jake Jelmini, a third-year doctorate student in the Rehabilitation and Health Sciences program at the University of Kentucky College of Health Sciences. "And those that do don't have a very well-established one that includes physical therapy, athletic training, strength training or any combination of those. Realizing that is what inspired me to get into this work."
Every single day, these students help prevent, diagnose and treat injuries with the firefighters from the Lexington Fire Department in the lab at UK's Sports Medicine Research Institute — all while gathering data to develop groundbreaking research in an untouched area of athletic training.
"We handle everything from the random ache and pain to more complex management of some musculoskeletal disorders," said Jen Tinsley, also a third-year doctorate student in the Rehabilitation and Health Sciences program. "Right now, members of the Lexington Fire Department come to us five days a week, Monday through Friday, for free. And in exchange, we're able to gather data that helps further inform this emerging research area to support the needs of first responders."
The two are funded by the National Institute for Occupational Safety and Health (NIOSH), and they are the very first athletic training corps NIOSH has funded in an educational research center.
"It's really incredible that this research is getting attention on a federal level," Tinsley said. "We hope that our data will continue to hold attention on this level and really begin to help this community nationally."
Alex Jann, a Lexington firefighter paramedic who is originally from Germany, visits Tinsley and Jelmini once a week for rehab. He's been seeing them for just over a year.
"I was having issues with knee pain, knee stability and shoulder mobility," Jann said. "So, when I discovered this program and met with Jen, I really liked what she planned for me and I've now been coming here for 13 months. I'm having less pain, better mobility and I'm getting stronger."
Jann says that because of the physicality of the firefighter profession, he believes every firefighter needs this kind of medical support.
"We have a lot of back pain and shoulder pain," Jann said. "It's an extremely physical job. Physical fitness and mental health are the two greatest concerns within the fire department. Every single firefighter should be receiving this kind of care."
Ultimately, the goal is to not only help the Lexington firefighters feel better and have longer careers, but also to conduct research that will inform policy change across the country. The policy change is key, because first responders until recently have largely been left out of the conversation when it comes to integrated health systems that include athletic training support, despite knowing the physical toll of their profession.
Some fire departments, including those that provide service for large metropolitan areas like New York or Dallas, do embrace these integrated health systems. However, this accounts for less than 10 markets across the country.
"This is surprising to us, that this field of interest is so new," said Jelmini. "Because firefighting has been around a whole lot longer than athletic training has. And there's a real need here — firefighters and other first responders such as police and military members all need and deserve access to athletic training and physical therapy services."
Jelmini's area of research takes a traditional athletic training model and applies it to something called "occupational exposure."
"Right now, I'm looking at how the number of calls and types of calls that firefighters respond to during a shift may influence something we call 'occupational exposure,'" Jelmini said. "And these factors can influence things like heart rate and sleep patterns, which can all affect how well they're able to recover when off duty."
Jelmini said his next step is looking forward on how to monitor these factors in real time with a comprehensive athletic team to assist the firefighters in recovering better, to ultimately perform better as well.
Tinsley's research focus is based on a bio-psycho-social framework, exploring topics like resilience, grit and burnout, and looking at how these factors can relate to the occurrence of musculoskeletal disorders.
"It's important to look at both the physical and mental sides of a person when we're looking into an issue they may be experiencing," Tinsley said. "Hopefully, generating more research with a whole-person-based approach like this will help fill some gaps we see when we're managing musculoskeletal disorders."
When considering why fire stations should embrace an integrated health model, there is more at stake than only the health and well-being of the firefighters themselves. There are financial reasons as well.
"Musculoskeletal disorders occurring in firefighters alone cost millions and millions of dollars a year," Jelmini said. "One paper showed that over an eight-year period, one single fire department accrued almost $8 million in cost for these disorders alone."
"It's as expensive of an issue as it is a commonly reported one," Tinsley said. "So, ultimately, we want to save these departments money, prevent injuries in their staff and keep them healthy so they are able to fulfill their duties for a long, long time."
Working with the fire department has been a dream of both Tinsley and Jelmini.
"The department is so great to work with," Tinsley said. "They provide us crucial feedback to inform our treatment. They are just as invested as we are, and they are so engaged with us that it is really making this program a success. We're very thankful."
For Jann, this clinic has been life changing.
"I have a goal of being in the 1,500-pound club with three lifts," Jann said. "And they've been helping me get there. They've helped a lot of us, who are stubborn and don't necessarily seek out help all the time, whether that's for physical issues or mental issues. I'm very thankful for the work they do for us here at the fire department."