Healthy WAY Proposals Being Accepted From Rural Kentucky High Schools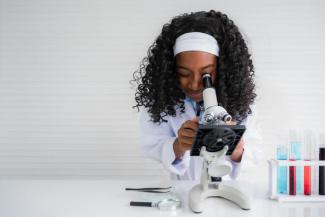 The University of Kentucky Center of Excellence in Rural Health (UK CERH), located in Hazard, Kentucky, is accepting proposals from rural Kentucky high schools to participate in its Healthy WAY program.
Healthy WAY (Wellness in All Youth) is a leadership development and research training program designed to empower rural Kentucky high school students with the skills to identify and develop solutions to health and social issues at the school and community level. The program funds student-led teams to work with school personnel to address health and well-being concerns facing youth today.
"Students selected for participation will receive project funding, hands-on research training, technical support and research mentoring," said Frances Feltner, D.N.P., director of the UK CERH.
Download the proposal application at https://ruralhealth.med.uky.edu/cerh-healthy-way.
Completed proposals must be submitted by Wednesday, Oct. 6, 2021. Winners will be notified by Wednesday, Oct. 20, 2021.
Up to five proposals will be funded. To be eligible, high schools must be located in a rural county of Kentucky. Eligible counties are Adair, Anderson, Ballard, Barren, Bath, Bell, Boyle, Breathitt, Breckinridge, Caldwell, Calloway, Carlisle, Carroll, Carter, Casey, Clay, Clinton, Crittenden, Cumberland, Elliott, Estill, Fleming, Floyd, Franklin, Fulton, Garrard, Graves, Grayson, Green, Harlan, Harrison, Hart, Hickman, Hopkins, Jackson, Johnson, Knott, Knox, Laurel, Lawrence, Lee, Leslie, Letcher, Lewis, Lincoln, Livingston, Logan, Lyon, Madison, Magoffin, Marion, Marshall, Martin, Mason, McCracken, McCreary, Menifee, Mercer, Metcalfe, Monroe, Montgomery, Morgan, Muhlenberg, Nelson, Nicholas, Ohio, Owen, Owsley, Perry, Pike, Powell, Pulaski, Robertson, Rockcastle, Rowan, Russell, Simpson, Taylor, Todd, Trigg, Union, Washington, Wayne, Webster, Whitley and Wolfe.
The UK CERH was established by state legislation in 1990 to address health disparities in rural Kentucky and the unique challenges faced by our communities. The mission was and still is today to improve the health and well-being of rural Kentuckians. For more than three decades, the center has partnered with communities, providers, students and individuals to provide health professions education, health policy research, health care service and community engagement toward reaching this mission.
For questions or more information about Healthy WAY, contact Rural Project Manager Beth Bowling at beth.bowling@uky.edu or 606-439-3557, Ext. 83545.