Honoring University Research Professor Yuha Jung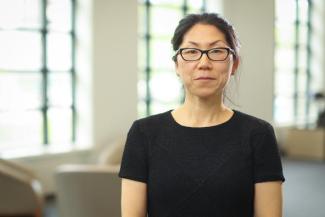 Yuha Jung, Ph.D., associate professor and director of graduate studies in the University of Kentucky College of Fine Arts, has been named one of 14 University Research Professors for 2022-23.
The University Research Professorship Awards honor faculty members who have demonstrated excellence that addresses scientific, social, cultural and economic challenges in our region and around the world. Each University Research Professor, nominated based on criteria set by college leadership, receives a one-year award of $10,000.
"I feel so honored to be named a University Research Professor. I am grateful for my colleague who nominated me for this award and cannot thank my colleagues enough for creating a supportive and creative environment where we can do impactful research together," Jung said. "Getting this award means that I can focus more on collaborative research projects with my colleagues in the next year or so."
Jung's research in the Department of Arts Administration focuses on arts and cultural management, specifically in terms of their accessibility and inclusiveness for all people across the communities in which the museums and organizations serve.
"I focus on arts and culture from an open systems perspective, where an organization is an undivided part of its larger community and its social, economic, political, educational and legal environments," Jung said. "My main focus has been art museums, although I have been researching other types of arts and heritage management over the last few years."
Through her work, Jung provides tested, useful models for governing and running museums and cultural heritage sites (and other types of arts organizations) that can be more inclusive of diverse community needs, interests and perspectives. An example of this work is in her most recent project, in which she and her team are quantitatively and qualitatively analyzing the list of properties in the National Register of Historic Places.
"Working with colleagues on campus from many different departments and other external organizations that focus on historic preservation, we want to identify whether preservation discrepancies occur where the histories and cultures from minority groups are less likely to be preserved (which our preliminary result supports), find reasons for such discrepancies and suggest remedies to close these gaps," Jung said. "The University Research Professor award will support this project as well as my other writing and edited book projects currently under contract."
Jung has published numerous peer-reviewed articles in journals including Journal of Arts Management, Law, and Society; Museum Management and Curatorship; Studies in Art Education; and Qualitative Inquiry. She also co-edited the book, "Systems Thinking in Museums: Theory and Practice," and recently published a monograph, "Transforming Museum Management: Evidence-Based Change through Open Systems Theory."
Additionally, Jung was the 2017 recipient of the Wallace Foundation Content Competition Award and is currently working as a lead editor on the Oxford Handbook for Arts and Cultural Management.
She actively participates in her field and community by serving as an associate editor for Museum Management and Curatorship and a board member for the Association of Arts Administration Educators, as well as the Bann Yun Lexington Korean Cultural Center.
Her recent contract-based work includes benchmarking research on management policies of house and historical museums in the U.S. for the Overseas Korean Cultural Foundation USA, which is part of the South Korean government.
She holds a B.F.A. in painting from Yeungnam University, an M.A. in museum studies from Syracuse University, an M.P.A. from University of Georgia and a Ph.D. in art education from Penn State University.