Joey Fatone Picks UK's Barnstable Brown on 'Celebrity Wheel of Fortune'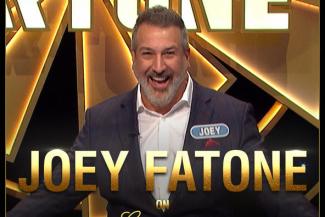 *NSYNC'S Joey Fatone is spinning his luck for UK HealthCare's Barnstable Brown Diabetes Center during an upcoming episode of "Celebrity Wheel of Fortune." Fatone has been a faithful attendee through the years of the star-studded Barnstable Brown Derby Eve Gala.
Each episode of "Celebrity Wheel of Fortune" welcomes celebrity contestants to spin the world's most famous wheel and solve puzzles for a chance to win $1 million. All the money won by the celebrity contestants goes to a charity of their choice. Fatone chose to play for UK HealthCare's Barnstable Brown Diabetes Center and has said he loves the family bond within the Barnstable Brown charities to help others.
"I am so truly honored that Joey chose the Barnstable Brown Diabetes Center," said Patricia Barnstable Brown. "For over 20 years, Joey has been a loyal supporter of our fight against diabetes."
The Barnstable Brown Diabetes Center was established in 2008 by twin sisters Patricia Barnstable Brown and Priscilla Barnstable along with their mother, Wilma. Together, they pledged the initial funding to support the center in memory of Patricia Barnstable Brown's husband, David, who passed away in 2003 from complications of diabetes.
Through fundraising events such as the family's annual Derby Eve Gala, which attracts celebrities from around the world to the Barnstable Brown family home in Louisville, the family has donated more than $16 million to the Barnstable Brown Diabetes Center at the University of Kentucky. The funding helps combat diabetes, a disease that disproportionally affects Kentuckians.
"Thanks to the generosity and vision of the Barnstable Brown family, patients with diabetes in Kentucky are receiving the highest level of patient care and benefiting from innovative research that impacts treatment and understanding of the disease," UK President Eli Capilouto said at the clinic opening in October 2017.
The Derby Eve Gala was called off in 2020 and 2021 due to the ongoing COVID-19 pandemic, but Fatone found a way to still support the charity by picking Barnstable Brown to benefit from his time as a contestant.
Joining Fatone on the upcoming episode is Wanya Morris, who is playing for Boys & Girls Clubs of America, and Shawn Stockman, who is playing for Children's Hospital of Philadelphia.
Tune in to ABC on Sunday, Nov. 7, at 8/7 central to watch Fatone compete for $1 million.