KGS to Explore 'Big Earth Data' at Annual Seminar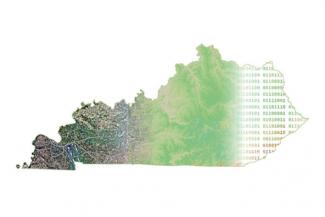 This Thursday, the Kentucky Geological Survey (KGS) at the University of Kentucky will host its 60th annual seminar. The online event is expected to draw interest from disciplines including geology, geography, environmental sciences, forestry, public health, computer science and statistics.
The seminar will take place 11:40 a.m.-4:30 p.m. Thursday, May 20, on Zoom. The event is free but registration is required.
This year's seminar theme is "Big Earth Data: Forging A New Future." Data are the foundation of science and as science grows, so does data. Knowing how to manage, share and use large collections of data provides the pathway to future breakthroughs.
"It's remarkable that in 60 years this event has grown from an informal annual gathering of geologists working in Kentucky's landmark geologic mapping program to our largest stakeholder event, this year being held virtually and focusing on technology that did not even exist in those early years," said Bill Haneberg, director of KGS.
Sarah Battersby, principal research scientist on the Tableau Research Team at Salesforce, will deliver the annual Haney Distinguished Lecture. Battersby's work emphasizes ways to visualize and use spatial information more effectively — no advanced degree in geospatial science required.
Her talk, "How people think about maps: Analytics and building trust," will focus on the process of analyzing and communicating about spatial patterns. Battersby will speak about some of the challenges involved in spatial analytics tool design as well as broader problems related to map perception that make the whole process more challenging — and more interesting.
"These problems are compounded when we consider that at their core, all maps are wrong in some (sometimes critical) ways," Battersby said.
The seminar will also feature two presentations by National Oceanic and Atmospheric Administration (NOAA) scientists.
Jeff Jalbrzikowski, with the NOAA National Geodetic Survey, and Bryan Bunch from the Kentucky Infrastructure Authority, will present "Kentucky's Contribution to the Modernized National Spatial Reference System (NSRS)." Ken Casey, with the NOAA and National Centers for Environmental Information, will present "ESIP: Collaboration to Seed Innovation."
The seminar will highlight KGS research on landslide mapping and risk mitigation, and development of a data repository for social, health and environmental datasets for the Appalachian Kentucky. A virtual poster session and five-minute lightning talks by KGS staff, titled the "Virtual Map Blast," will also take place.
To register, visit www.eventbrite.com/e/2021-kentucky-geological-survey-annual-seminar-tickets-149868878851?aff=ebdssbeac.
For more information, including the full seminar agenda, visit www.uky.edu/KGS/news/kgs-annual-seminar-2021.php.