KGS geologist accompanies landslide disaster assistance team to Sri Lanka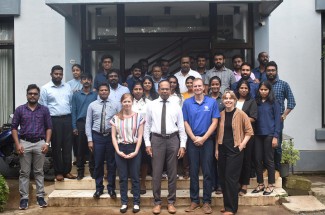 Geologist Matt Crawford, a landslide researcher at the Kentucky Geological Survey (KGS) took discoveries from Kentucky landslides to international collaborators in Sri Lanka last month.
Crawford was there as part of the U.S. Geological Survey (USGS) Landslide Disaster Assistance Team (LDAT), which included LDAT program manager Corina Cerovski-Darriau and USGS geologist Gina Belair. During a three-and-a-half-day workshop in the capital city of Colombo, the team presented their approaches to landslide modeling and mapping, including susceptibility and landslide inventory methods from recent KGS research projects conducted in parts of Eastern Kentucky, which are heavily impacted by landslides.  
LDAT works to assist foreign partners with training and capacity building to support hazard mitigation and loss reduction. The trip, co-funded by USAID's Bureau for Humanitarian Assistance, supports the partnership between the Sri Lankan National Building Research Organization (NBRO) and LDAT.
The trip extended a long partnership between KGS and the USGS, whose mission also focuses on providing science, monitoring Earth-system interactions and dispensing actionable information to decision-makers. Landslide hazard research is a critical area of overlapping expertise between KGS and the USGS.
"KGS is thrilled to leverage our expertise in this area to advance international collaborations and cross-disciplinary bridges between researchers, engineers and practitioners," said William Andrews, KGS acting director and state geologist. "Not only does this work benefit communities, it also demonstrates the world-class value of research produced at UK and the benefit of the type of actionable and technical work that centers like KGS provide to Kentucky and the world."  
While the terrain and climates of Sri Lanka and Kentucky might not immediately draw comparisons, the geologists, engineers and planners from both areas face similar landslide challenges. Steep slopes, intense or prolonged rainfall, slope development and problematic soils all contribute to landslides. These similarities make Crawford's work in Kentucky applicable to Sri Lanka and other landslide prone areas around the world.
"Like any great collaboration, we went to Sri Lanka to conduct the landslide workshop, and I came away with new knowledge that we can use in Kentucky," Crawford said. "NBRO has a valuable history and solid foundation of landslide work."
"We support our international counterparts with their efforts to reduce risks from landslide hazards, often through trainings like this recent multiday workshop for NBRO," Cerovski-Darriau said.
Crawford foresees adding new ideas and methods to his own future Kentucky landslide research.
"There are so many parallels between Sri Lanka and Kentucky in terms of studying the best ways to map, model and mitigate landslide hazards," Crawford said. "This presents opportunities for knowledge exchanges and avenues for improving landslide research through possible future research collaborations."
Crawford began researching landslides in 2009, as part of his Ph.D. work in the Department of Earth and Environmental Sciences at UK. His current research portfolio includes landslide projects focused on conducting inventory mapping, using geophysics to characterize landslides, modeling susceptibility and risk, analyzing complex terrain with airborne lidar and educating public officials on risk reduction. Part of the landslide susceptibility and risk effort includes providing data to communities to incorporate in local and regional mitigation strategies, building and infrastructure needs, land-use planning, event awareness, response and recovery.
Most recently, Crawford collaborated with KGS colleagues to document the occurrence of landslides after the catastrophic July 2022 storm and flood event in Eastern Kentucky. Publications and landslide resources focused on Kentucky are available at the KGS Landslide Research site.