KGS project measures methane emissions from orphaned oil, gas wells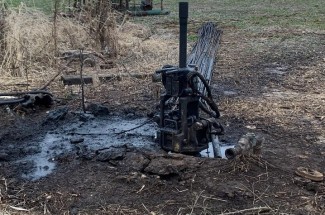 Kentucky Geological Survey (KGS) geologist Marty Parris, in collaboration with the Kentucky Division of Oil and Gas, is leading a two-year, $835,145 project to measure methane emissions from orphaned oil and gas wells in Kentucky. Methane is a potent greenhouse gas that contributes significantly to global warming.
An orphaned oil or gas well is one that has been abandoned by its owner without satisfying the legal requirements for plugging necessary to ensure the well does not pose a health or safety hazard. In some cases, wells are orphaned because their owners are financially insolvent. In other cases, especially involving very old wells, the owner may be unknown. The state is responsible for orphaned wells on non-federal lands. Kentucky has at least 14,000 orphaned wells located mostly in the southern, eastern and western parts of the state.
Orphaned wells can harm the environment by contaminating soil and groundwater and by leaking methane into the atmosphere. They can also be safety hazards. Most states, including Kentucky, have not had the financial and workforce resources to address orphaned wells.
The Bipartisan Infrastructure Law (BIL) passed in 2021 eases the financial burden by providing funds to states to plug orphaned wells. As part of the program, the Interior Department asks each state for an estimate of methane emissions abated by plugging its orphaned wells. With funding from BIL via the Kentucky Division of Oil and Gas, KGS is leading a project, "Prioritizing and Measuring Methane Emissions in Orphaned Oil and Gas Wells," to measure methane emissions from representative wells to demonstrate the effectiveness of the program.
According to Parris, "because the population of orphaned wells is so large, we will measure methane emissions on a small sample set of wells and use inferential statistics to define emissions characteristics based on the geologic and engineering attributes of the wells. Our goal is to see if certain well types tend to have higher methane emissions."
The analysis will further document where plugging will remove contamination threats to groundwater and improve the safety on agricultural and recreational lands.
In addition to collaborating with the Kentucky Division of Oil and Gas, KGS is working with the Yale Carbon Containment Lab on geospatial and statistical analysis and the Well Done Foundation on methane measurements.