Markey Launching New Summer Oncology Program for Teen Girls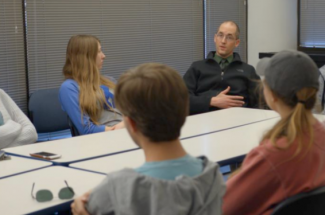 This summer, the University of Kentucky Markey Cancer Center is launching the Summer HealthCare Experience (SHE) in Oncology program, aimed at empowering high school girls throughout Kentucky to learn more about the field of cancer medicine and research. The inaugural SHE in Oncology program will be held July 12-23 and will be virtual this year due to the ongoing pandemic.
Funded by the American Cancer Society, SHE in Oncology will offer experiences, activities and discussions to help introduce teen girls to the wide range of career and leadership opportunities in oncology. Benefits of the program include:
· Two weeks of rewarding online programming featuring expert speakers and activity leaders from all facets of cancer, including cancer research, healthcare, personal development and more.
· Opportunities to work collaboratively and conduct research with students from other schools.
· Mentorship from prominent women in the field.
· Support for all students during the program – including ability to group text and email with questions, concerns, updates, technology issues, etc.
· Lab kits for any experiments and research related to the program.
· A stipend of $500 to each participating student.
In addition to working with their fellow Kentucky participants, SHE in Oncology members will work with students from four other collaborating institutions that are running their own SHE programs: the University of Texas at Austin, the University of Chicago, the University of Michigan and the University of Pennsylvania.
"Through the generosity of the American Cancer Society, we have an opportunity to increase the number of Kentucky female scientists who will move into the scientific workforce with a unique understanding of cancer and especially how the disease relates to the needs of our state," said Nathan Vanderford, Ph.D., director of Markey's SHE in Oncology program and assistant professor of toxicology and cancer biology in the UK College of Medicine. "We're excited to begin SHE as a program targeting and specifically tailored to students identifying as female, and look forward to having a lifelong engagement with these students to support their long-term career goals."
The SHE in Oncology program is open to students who identify as female in 10th through 12th grades in any Kentucky high school. The program aims to support young women who are underrepresented in the sciences, including teens of a racial or ethnic minority, from low-income households, living with a disability, or who are first-generation college-bound.
Interested participants can apply to the program here. All applications are due by Friday, April 30, 2021, by 5 p.m. EST.
For questions, contact Chris Prichard at cpr248@uky.edu.