Nursing Students, Black Soil Partner to Address Food Insecurity, Maternal Health in Communities of Color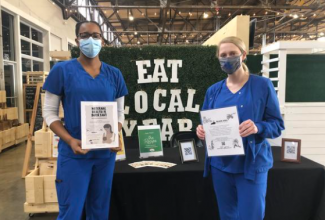 As a land-grant institution, the University of Kentucky's role is to improve the lives of people throughout the Commonwealth through service, education and health care. Through a collaboration with local agritourism company Black Soil, a group of students from the UK College of Nursing have taken up the mantle to deliver health education to Lexington's communities of color.
Black Soil is an organization founded to reconnect black Kentuckians to their legacies and heritage through agriculture. Urban families are brought together with black farmers, growers and producers across the state to help introduce opportunities in agriculture that promote self-sufficiency, encourage healthy living and activate cooperative economics.
Megan Walden, an instructor in the College of Nursing, was looking for new clinical opportunities for her students, as well as ways to and serve the community. She connected with the staff of Black Soil through social media and immediately struck up a rapport with them. Together, they brainstormed ways for students to get involved.
"Black Soil really works with the students' passions," said Walden. "If a student is passionate about something, such as sustainability or food insecurity, they're so open to really helping them grow and find their own way. I was just very fortunate to kind of stumble into Black Soil and the amazing work they're doing."
For the staff and volunteers at Black Soil, the partnership with students is a serendipitous collaboration after much of their original planned programming was affected by the pandemic.
"The COVID-19 pandemic has really expanded our look into addressing health disparities," said Ashley C. Smith, co-founder and chief operating officer of Black Soil. "By applying services and programs through our partnerships with institutions, it really helps us broaden our reach and how we serve the community with our mission."
One of the missions of Black Soil is health promotion and addressing racial health disparities. In the summer of 2020, the Black Soil community-supported agriculture (CSA) provided 12 single-mother-led households with free produce shares for 20 weeks. Building on the idea of engaging people through agriculture in a community-based environment such as Lexington's Julietta Market, Smith was excited to partner with nursing students on two projects in the 2021 spring semester. In the first project, students provided maternal screenings and nutritional guidance. In the second project, students conducted surveys to assess the barriers people face in accessing fresh food, as well as how best to promote Black Soil and its services.
"The students were empowered," said Smith. "They owned the content and the development from start to finish; we were simply there to answer questions, coach them and provide them with other professional development opportunities like volunteering and interacting with the community."
Maternal Screenings and Nutrition: Lactation Specialists Reach Out to Lexington's Mothers
Nursing students Meagan Raymer and Christine Hallock are both board-certified lactation consultants in UK HealthCare's Mommy and Me Clinic. As part of Walden's Community and Public Health Nursing course, Raymer and Hallock met with Smith and others from Black Soil to talk about how they could contribute.
"When meeting with Black Soil, we discovered that we had a mutual passion: maternal morbidity and mortality, specifically with Black women," said Raymer and Hallock. "After brainstorming with Black Soil on their target population and what needs they felt had to be met, we planned and executed two mini-clinics at Black Soil's year-round farmer's market at Julietta Market."
At this "pop-up" clinic, Raymer and Hallock offered expecting mothers blood pressure screenings, guidance on maternal nutrition in pregnancy and consulted about lactation. Incorporating Black Soil's mission to support families through locally sourced produce, the students advised families about how starting infant solids can be done "from farm to high chair," allowing parents to incorporate the fresh produce from the market into their infants' diets.
Raymer and Hallock also designed and distributed refrigerator magnets in both English and Spanish that listed warning signs and symptoms of both physical and mental postpartum ailments, how to monitor the signs and when to seek treatment.
"We chose magnets because they are something so many people use and just put on the fridge kind of out of sight, out of mind, but is there when you need it," said Raymer and Hallock. "Flyers tend to get thrown away. We also created small appointment information cards for patients that had a brief synopsis of what we discussed at the appointment, and distributed healthy, family-friendly recipes in both English and Spanish."
The response from participating families was immediate and positive. Most people are only able to spend a few minutes with their doctors at scheduled appointments, but Raymer and Hallock were committed to giving each patient as much time as they needed to ask questions.
"The families were really excited," said Walden. "The students spent a long time with the participants, staggering appointments so that they could devote up to 30 minutes with each family. This gave the students the chance to really get to know the moms and find out about them, what they were able to provide, what they had access to and what they needed."
"We absolutely love the resources that working with UK brings to the table," said Smith. Not just the legitimacy and the brand recognition, but really the caliber of students, the quality of their passion and the quality of their drive. It is so inspiring to work with young people who are ready to take it to the next level."
Assessing the Needs of an Underrepresented Community and Promoting Resources
Nursing students Maya Fitzpatrick and Amanda Moore also joined Black Soil as part of Walden's Public Health Nursing course.
"We decided that our project would focus on some of the barriers that stand in the way between people and their access to fresh food and food security, as well as how we can best get the word out about Black Soil and what they do," said Fitzpatrick and Moore. "We spent a couple of weekends at the Julietta Market surveying customers and bystanders to collect information on the best way to get the word out."
Fitzpatrick and Moore conducted a survey to assess issues around food insecurity, such as whether each family lived near a grocery store that sells fresh food and produce and the degree to which the cost of food was an issue. The data they captured will be used by Black Soil to develop programs and initiatives to help families engage in local agriculture. They also used social media to cover events such as the Black Farmer Meet Up and a rain barrel-making event.
"These types of partnerships between UK and local organizations are important because UK is such a huge organization and can really play a positive role in helping these smaller organizations and collaborate to help fix issues in the community such as food insecurity," said Fitzpatrick and Moore.
Looking Ahead to Future Collaborations
Smith and Walden are working with a new group of students on a project to address racial health disparities.
"The mission and the vision of Black Soil are to first and foremost reconnect Black Kentuckians to their heritage and legacy of agriculture," said Smith. "There's a link between the decline in numbers of black farmers and the disproportionate concentration of generational poverty, food deserts, food insecurity within communities of color."
By partnering with researchers and clinicians like those at the College of Nursing, Black Soil can expand programming and communication to address those disparities and make local food and health information accessible. Having students involved, Smith says, makes the partnership mutually beneficial.
"These students will be able to engage the community, while also expanding their worldview and getting their hands on the ground and owning the city that they work in."