OTC Annual Report Fiscal Year 2017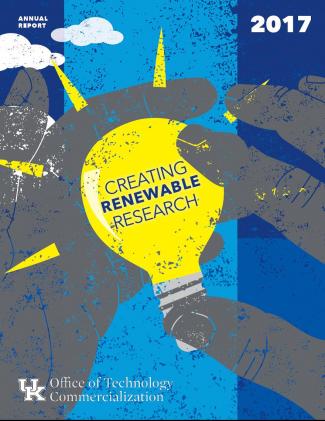 The last year has been a tremendous one for the prospects of UK research with commercialization potential. First, we signaled an expanded focus of our office by changing its name to the Office of Technology Commercialization. Next, we adopted a new mission statement that emphasizes commercializing our discoveries for the good of the University, the Commonwealth, and global society. We launched new programs and initiatives intended to increase researcher engagement and recognition, such as UKAccel, UKPitch and Patent Palooza. We developed an experiential learning program that hires graduate students—OTC Fellows—to become an integral part of our technology assessment and licensing processes. We partnered with other campus and community stakeholders, such as the Von Allmen Center for Entrepreneurship and Awesome Inc, to bring together some of the many great resources available to support the translation of UK research. To optimize our ability to originate deals, we hired new staff and formed a new Commercialization & Licensing Team with significant scientific research, market intelligence and license negotiation experience. Moreover, we created a new externally searchable database for UK's licensable technologies, and we adopted a number of new tools to improve our ability to assess commercial viability and identify partners.
The UK research community and ecosystem around us heeded the ante for advancement, as evidenced by the phenomenal support we received from researchers and the Lexington community. Thanks to the foresight and leadership of, among others, President Eli Capilouto, Vice President for Research Dr. Lisa Cassis, and Associate Vice President for Research Rodney Andrews, and thanks to the hard work of a great OTC team, we were able to realize year-on-year increases in licenses & options executed (up 90%), start-up ventures launched (up 33%), patent applications (up 11%) and invention disclosures. Further, UK placed in the top 100 worldwide universities for patent grants in 2016, and we followed that up by receiving more issued patents in FY17 (40) than in any year before (30 in FY16).
Looking ahead, we will continue to innovate ourselves, pushing forward with these and other initiatives to support the great research at the University of Kentucky and help realize the market prospects that exist. Emphases will include, among others, (1) bridging the development gap for UK discoveries between invention and being commercialization-ready, (2) expanding UKAccel to offer a more robust education and services program for start-up ventures spinning out with UK technology, (3) developing new and non-obvious networks for commercialization through partnerships with government, industry associations, state and regional universities, and venture investment channels, and (4) initiating socially responsible innovation programs. Subscribe to our Commercialization Connect newsletter through our website and jump on the OTC train as we embark on another great year of research commercialization at UK.