Pharmacy Faculty's Lifelong Passion for Science Earns Her New Accolades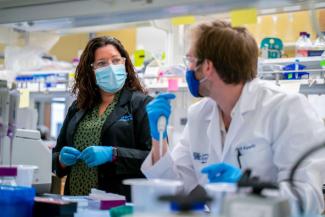 When asked, "What do you want to be when you grow up?" Jill Turner was always quick to answer: "A scientist."
As someone who grew up without a connection to the field of research, her response certainly stood out. Growing up in a small town of 2,000 people in Romney, West Virginia, her dreams always seemed outside the box but inspiring. Starting at a young age, Turner developed a keen interest in science, particularly biology.
"[I had] question marks about how the world worked, whether it was physics, or biology, chemistry or math," she said. "I was also a huge fan of Bill Nye the Science Guy – he was kind of my role model."
She never strayed from her hope for a scientific career and now, Turner, Ph.D., is a neuroscientist and associate professor in the University of Kentucky College of Pharmacy. In fact, her drive was personally propelled further during her teenage years after the death of both of her grandparents.
"They died very quickly, back-to-back, from lung cancer due to smoking," she said. "I decided at that point I wanted to cure cancer. Then I went on to undergraduate classes and realized it was quite naïve for me to want to try to cure cancer in the way I meant it."
She decided instead to pursue research on substance use disorders – a decision that was further solidified during a trip back home during college.
"A lot of people I grew up with and went to school with were either in jail, in rehab or dead," she said. "It was the wake-up call that caused me to jump into opioid addiction research as well."
Turner is specifically focused on the pharmacogenomics of addiction, which is a way of applying precision medicine to patients with substance use disorders.
"We focus on creating therapy specific to the patient instead of using a 'one size fits all' approach," Turner said.
Turner was recently awarded the American Society for Pharmacology and Experimental Therapeutics (ASPET) Neuropharmacology Early Career Award for 2021. The award recognizes early career stage investigators working in any area of neuropharmacology from all types of organizations, including academia, industry, private or government institutes.
"I appreciate the society's continued mission of accelerating therapeutics for human disease," she said. "I am very honored to be named the Neuropharmacology Divisions Early Career Awardee this year, and I am especially appreciative of my mentors, including Drs. Ken Kellar and Linda Dwoskin."
Turner stresses the importance of collaboration in her continued success and is thankful that UK encourages multi-disciplinary research to foster innovative ideas.
"Had I not been given the opportunity to work at UK, I would have been a very, very good scientist, but I would likely not have had a direct impact on people's lives," she said. "We can see our work making a difference here and that is very rewarding."
Her passion is palpable, and she hopes to cultivate that same passion in her students while constructively mentoring them.
"I like to help reframe my students' mindset that this work is not easy, and they need to be prepared to fail," she said. "Grit and resilience are two of the most necessary pieces of personality and character quality traits that you need to be a scientist now. It's okay to fail, as long as you learn from that failure and take that and move forward."