Start to Finish Mentoring Program proves that mentoring matters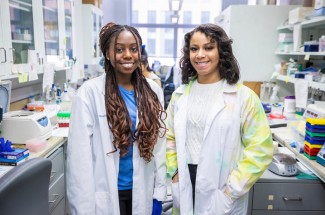 A good mentor motivates you, a great mentor shapes you.
That is exactly what Alexis Smith hopes to do with her mentee, Linda Omali.
Connected through the University of Kentucky's Center for Graduate and Professional Diversity Initiatives (CGPDI) Start to Finish (STF) Mentoring Program, Smith knows firsthand what a great mentor can do for their mentee.
A doctoral candidate in the UK College of Medicine Department of Molecular and Cellular Biochemistry, Smith was first interested in UK because of her current mentor, UK Professor Brett Spear, Ph.D.
"The biggest thing that drew me to the university was Dr. Spear. I met him at the Annual Biomedical Research Conference for Minoritized Scientists in 2016," said Smith. "He was the director of the Integrated Biomedical Sciences Program at the time, and he told me about the program and the different opportunities it offered. I just remember him being so nice and helpful, and I applied for the program a year later. He even reached out to me after I applied."
Now in her fifth year at the university, Smith's goal is to better understand the roles of proteins in platelet secretion and hopes her work will yield insights into their roles in neurodegenerative diseases, like Parkinson's disease.
She also hopes to inspire her mentee, Omali, in the same ways Spear inspired her.
Omali was first drawn to the university because of its renowned STEM curriculum. Now, as an undergraduate majoring in biochemistry with a minor in computer science, her research in the Whiteheart laboratory focuses on the effects of lysosomal rupture within platelets.
"We hope to further understand how various human diseases like cancer and pathogen-induced thrombocytopenia may be caused due to lysosomal cell death," said Omali.
When Omali received an email her sophomore year about the STF program, she knew it would be a great opportunity.
The STF Mentoring Program is a joint effort between CGPDI, The Graduate Student Congress and The Graduate School. It is a multi-tiered intervention and support strategy for UK students from historically marginalized communities in undergraduate, graduate and professional fields of study.
The first tier of the mentoring program includes a dyad pair of a faculty or staff member matched with a graduate/professional student. The second tier of the program allows graduate and professional students to mentor undergraduate students. Mentors in this program implement observed and learned mentorship models with guidance from the program to enhance their effectiveness and methods of engagement.
"STF works to enhance the academic experience for students through formal and informal engagements to foster a greater sense of belonging in their academic journey," said David Robinson, CGPDI assistant director. "Mentorship is important because it guides us through the things that we didn't even know that we didn't know. So often we would like to pour into our younger selves if we could. Mentorship gives individuals an opportunity to pay it forward with knowledge, wisdom and experience."
While academic education provides one kind of value, nothing prepares you for a career — especially in the STEM world — quite like firsthand experience.
STEM fields have never been more popular majors at U.S. colleges and universities. However, white and Asian men dominate these fields, while the participation of Black, Latinx and Indigenous students is far lower than their representation in the U.S. population.
For students struggling to determine what path to take academically or professionally, one of the clearest benefits of mentorship is someone who can embody possibility.
For Omali, Smith is that embodiment.
"Mentorship is important because there is always someone who has been in your position before you," said Omali. "Whether it's in an academic setting or a non-academic setting, it's helpful to receive guidance from someone who has been in your shoes and to be able to voice your concerns to someone who understands."
With mentors like Spear in Smith's life, she has not only been shaped into the scientist she is today, but also the mentor that she is today. While their time together is coming to a close, Smith hopes to continue shaping Omali into the great scientist she knows she can become.
"I'm so proud of her accomplishments," said Smith. "I'll be sad to see her go when she graduates this year, but I hope to continue to be a resource for her even after she leaves UK. I know she will excel at whatever career she chooses to do."
About CGPDI
The Center for Graduate and Professional Diversity Initiatives focuses on recruiting diverse graduate and professional students in UK's six health colleges and retaining diverse graduate and professional students in all 19 colleges, contributing to an inclusive campus environment where all students can fully engage and succeed.
CGPDI offers two office locations for graduate and professional students to study, access printing services, and have community in a safe space that welcomes all identities.