Thaddeus Salmon named 2020-21 Bell Addiction Medicine Scholar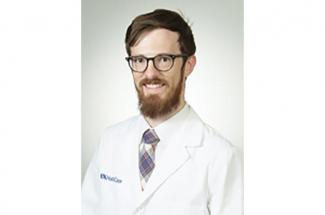 Dr. Thaddeus Salmon, an assistant professor in Internal Medicine and Pediatrics at the University of Kentucky College of Medicine, has been selected as UK's second Bell Addiction Medicine Scholar. The mission of the Bell Alcohol and Addiction Endowed Chair is to build a broader base of physician education and training experiences in treating patients with substance use disorders at UK HealthCare.
Salmon graduated from Asbury College with Bachelor of Arts degrees in Biochemistry and Spanish. He then went on to medical school at the University of Kentucky, where he remained for a combined residency in Internal Medicine and Pediatrics. Once his residency was complete, Salmon joined the teaching faculty of the UK College of Medicine and became a primary care clinician at the UK Polk-Dalton Clinic.
Currently in that role, Salmon mentors medical students and residents while serving a medically and socially diverse patient population. Within the Internal Medicine-Pediatrics residency program at UK, Salmon also directs the Health Equity Track and a "Reach Out and Read" literacy program for children visiting the clinic. He has interests in health policy and patient advocacy at the community level, and he contributes to medical student electives on these topics. His other clinical interests include child development; obesity treatment and prevention; and mental health. In all these pursuits, Salmon works to empower patients and families toward health.
"I'm looking forward to enhancing screening and management of substance use disorders in our primary care practice at the Polk-Dalton Clinic," said Salmon. "This will increase access to treatment for many patients, and we will also be able to improve education for our medical students and residents who rotate through the clinic."
During his year as the Bell Addiction Medicine Scholar, Salmon will work with staff and providers to create educational materials and a clinic-wide protocol to improve the screening and treatment of tobacco use disorder in Primary Care at the UK Polk-Dalton Clinic. This project will combine goals of improving patient care and increasing trainee physician education in this area. The Bell Scholar program is directed by Dr. Michelle Lofwall, Professor of Psychiatry and Bell Alcohol and Addictions Endowed Chair.