UK Alumnus on COVID-19 Frontlines in Liberia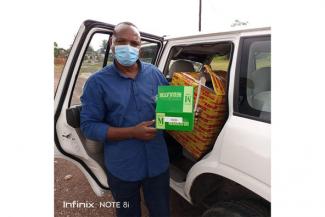 When times are tough, a University of Kentucky alumnus can always be found helping others. In the case of Mosoka Fallah, Ph.D., it's more than just a helping hand — it's lifesaving work.
Fallah is a leading public health expert and an inaugural recipient of the UK Alumni Global Impact Award who is now based in Liberia. Liberians are losing community members every single day to the COVID-19 pandemic. With a lack of resources and access to vaccines, people are much less likely to survive the virus. Fallah recognized a need and began to do the work to fill it.
In Liberian hospitals, there is an urgent need for oxygen regulators to use with the existing store of oxygen tanks they have. Fallah is on the frontlines of this issue in Liberia and has enlisted the help of his UK colleagues.
UK Professor of Microbiology, Immunology and Molecular Genetics Subbarao Bondada, Ph.D., was Fallah's advisor while he was earning his doctorate. With the help of other UK faculty members and colleagues in the UK College of Medicine, they have gathered pledges for about 50 regulators, as well as monetary donations. The UK International Center has also been integral in promoting the opportunity to help Liberia.
"Dr. Fallah also founded the Refuge Place International in Liberia to provide health care to underserved communities while he was a graduate student in my laboratory," Bondada said. "He also played a key role in ending the Ebola epidemic in Liberia."
Friends of Liberia is a Boston-based nongovernmental organization (NGO) that has recently gotten involved in the effort to supply more regulators. They reached out to members of their community, and the result was overwhelming. The organization has recently sent 100-150 regulators to Lexington to be shipped to Liberia from here. Siva Gandhapudi, also a scientist in the Department of Microbiology, Immunology and Molecular Genetics, is playing role in working out logistics of shipping the oxygen regulators to Liberia. The first shipment has already been received and distributed to patients.
"We appreciate the overwhelming response from the UK community and Friends of Liberia for this ongoing crisis," said Bondada.
Initially, Fallah noted an urgent need for approximately 200 regulators. Thanks to Friends of Liberia and the support of the UK community, they have met their goal — but there is still more to be done.