UK Arts and Sciences' Crystal Wilkinson Releases Poetry Collection 'Perfect Black'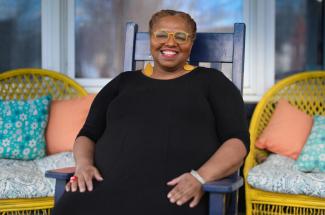 University of Kentucky College of Arts and Sciences associate professor and Kentucky Poet Laureate Crystal Wilkinson's latest title and first poetry collection, "Perfect Black," is now available from the University Press of Kentucky.
On Aug. 12, 2021, The New York Times listed "Perfect Black" as one of the four poetry books to read that week.
Wilkinson combines a deep love for her rural roots with a passion for language and storytelling in this compelling collection of poetry and prose about girlhood, racism and political awakening, imbued with vivid imagery of growing up in southern Appalachia.
In "Perfect Black," the acclaimed writer muses on such topics as motherhood, the politics of her Black body, lost fathers, mental illness, sexual abuse and religion. It is a captivating conversation about life, love, loss and pain, interwoven with striking illustrations by her longtime partner, Ronald W. Davis.
The new title also includes a foreword by Nikki Finney, the 2011 National Book Award winner who previously served as the Guy Davenport Endowed Professor of English at the University of Kentucky for 20 years.
Crystal Wilkinson is the first Black woman to hold the appointment of Poet Laureate of Kentucky. She is the author of "The Birds of Opulence," winner of the Ernest J. Gaines Award; "Blackberries, Blackberries," winner of the Chaffin Award for Appalachian Literature; and "Water Street," a finalist for both the Orange Prize for Fiction and the Hurston/Wright Legacy Award. She also is the winner of a 2020 USA Artist Fellowship.
The University Press of Kentucky is the scholarly publisher for the Commonwealth of Kentucky, representing a consortium that includes all of the state universities, six private colleges and two historical societies. The press's editorial program focuses on the humanities and the social sciences. Offices for the administrative, editorial, production and marketing departments of the press are found at the University of Kentucky, which provides financial support toward operating and publishing expenses.​