UK CERH to host Kentucky Rural Telehealth Summit in June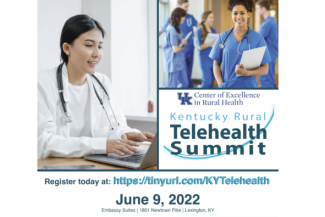 The University of Kentucky Center of Excellence in Rural Health (UK CERH) will host the 2022 Kentucky Rural Telehealth Summit on Thursday, June 9 at the Embassy Suites on Newtown Pike in Lexington.
The one-day event will be held in person. It will include sessions on a range of telehealth-related topics, including billing, coding and compliance; clinician training on technology use; legal and regulatory concerns; overcoming broadband challenges; remote patient monitoring; school-based telehealth; telehealth's competitive landscape; the hospital at home care model; the importance of facility-based telehealth services; and the "pioneers" and "settlers" of telehealth.
"We are fortunate to have a dedicated group of telehealth experts from across the Commonwealth that has come together to plan this important day," said UK CERH Director Fran Feltner, DNP. "Telehealth has evolved rapidly in the last two years. The summit will provide a day of learning and open dialogue that will help us all be more informed as we move forward to provide telehealth services in our communities."
An agenda for the summit can be found here.
Registration for the summit can be completed here.
Questions about the event can be directed to Wayne Noble (wayne.noble@uky.edu; 606-439-3557.