UK Chosen to House, Digitize 90 Years of Linguistic Data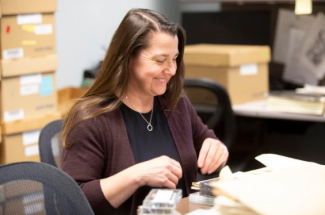 Did you know, the University of Kentucky is home to the largest survey of American dialects, which contains 90 years' worth of linguistic data?
Started in 1929 by the American Dialect Society, the Linguistic Atlas Project (LAP) aims to collect linguistic data using a comprehensive, systematic approach. Over the course of many decades, the project has moved from various institutions — eventually landing at the University of Georgia (UGA), where it stayed for more than 25 years.
"I was introduced to the Atlas at UGA and worked on the project as a graduate student," Allison Burkette, a professor in the Department of Linguistics in the College of Arts and Sciences, said. "Eventually, I was tapped to be the next project editor, and UK was chosen as the permanent home. So, in 2018, both the Atlas and I came to Lexington together."
The LAP is a valuable historical record of not just language use but American culture. "It includes more than 8,500 hours of digitized data, and the project has a strong reputation in digital humanities and complex systems research," Jennifer Cramer, chair of the Department of Linguistics, said. "UK was solicited, because we have a strong and growing reputation in sociolinguistics and specifically linguistic geography."
Here's how it works — the LAP consists of several sub-projects divided by geographical region. Each project represents the collection of linguistic data (grammar, pronunciation and vocabulary) in the form of dialect interviews.
In these face-to-face conversations, participants were asked a series of targeted questions. For example, "What do you call the piece of furniture that has drawers for you to keep your clothes in?"
"Bureau, chest of drawers and dresser were common answers in the 1930s and 40s," Burkette explained. "Researchers wrote down these responses in International Phonetic Alphabet (IPA) — a set of symbols that linguists use to capture pronunciation."
A renowned scholar of language variation, Burkette has been tasked with transitioning this storied collection into the digital age.
"We have interview data in many formats, including handwritten field notes in IPA, aluminum disk recordings, reel-to-reel tapes, cassette tapes, CDs — many different mediums that represent the technologies of many different eras," she explained. "We're trying to physically organize it, and digitize as much as we can, so that it can be made available via the forthcoming UK LAP website."
Additionally, Burkette — and her team of faculty, staff and student researchers — plan to conduct follow-up interviews throughout the Commonwealth. The interviews will be compared to those from the late 1950s-60s to learn more about how language in Kentucky changes over time.
"These students get hands-on experience working with linguistic data, through transcribing the handwritten IPA. They interact with LAP material at both ends of the spectrum — the physical and the digital," Burkette said. "Additionally, we will be training students to conduct interviews as well, which will give them experience in the field and allow them to contribute to the larger project."
"I'm very grateful that as a student I have the access to and the ability to learn from such a prestigious, innovative and important set of linguistic and cultural data," Crissandra George, a graduate student in linguistics theory and typology, added. "Just the sheer amount and variety of data in the LAP has shown me the endless number of possibilities and potential it can bring. The LAP is and continues to be an important source of many new and exciting discoveries in American English."
The LAP materials are in the process of being transferred. With the help of UK Libraries, they will be made widely available to the UK community and beyond — making the project a centerpiece for future engagement and outreach efforts.
"Linguistics as a field generally encourages people to appreciate diversity within language. Being able to document the breadth and depth of that diversity in American English makes the LAP a very special project, unlike anything else out there," Burkette said. "The LAP can provide people of Kentucky, for instance, with access to varieties of speech and culture in the state and instill a sense of pride in those varieties."
More information about the UK Department of Linguistics can be found online.