UK Economic Outlook Virtual Conference Set for Feb. 3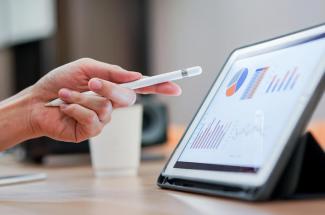 The University of Kentucky will host the 32nd annual Economic Outlook Conference, sponsored by Central Bank, Wednesday, Feb. 3. The conference will be offered from 8:30 a.m.-noon as a webinar. Registration is required, but the registration fee has been waived.
Featured speakers with expertise in education, finance and government will share their insight during the virtual event hosted by UK's Gatton College of Business and Economics' Don and Cathy Jacobs Executive Education Center, along with the Center for Business and Economic Research (CBER). Commerce Lexington and The Lane Report are serving as presenting sponsors, and the Lexington-Bluegrass Association of Realtors (lbar.com), is a partner sponsor.
Kevin L. Kliesen, business economist and research officer of the Federal Reserve Bank of St. Louis, will be the featured speaker — discussing the U.S. economy and monetary policy.
Additional speakers and presenters include:
Michael Clark, associate professor of economics and director of the Center for Business and Economic Research in Gatton College, "Economic Outlook for 2021: Kentucky and Beyond";
Jenny Minier, professor of economics in Gatton College, "The Economics of Racial Inequality"; and
Melynda J. Price, the William L. Matthews Jr. Professor of Law in the UK Rosenberg College of Law and professor in African American and Africana studies in UK's College of Arts and Sciences, "Inequality in Employment and Political Spaces."
"This annual event consistently provides a morning full of wonderful information and insights," Simon Sheather, dean of Gatton College, said. "Business leaders and other interested citizens will hear directly from experts on a range of current issues impacting our economy."
Sheather, along with Charles Courtemanche, associate professor of economics and director of the Institute for the Study of Free Enterprise in Gatton College, will provide opening remarks and introductions.
Early registration is recommended and can be completed online. For more information, visit the Gatton College website.