UK Engineering Launches New Aerospace Engineering Degree Programs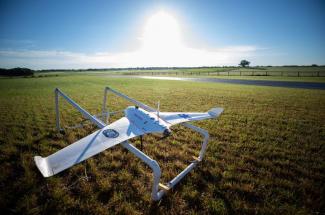 Are you interested in the science of flight? A new degree program in the College of Engineering at the University of Kentucky will span air, sea and space travel — giving students the opportunity to make new discoveries.
UK Engineering has been approved by the Council for Postsecondary Education (CPE) to offer undergraduate and graduate degrees in aerospace engineering.
"We are gratified to be the only academic institution in the state to offer a degree in aerospace engineering at the undergraduate level," said Rudy Buchheit, Dr. Rebecca Burchett Liebert Dean of UK Engineering. "Both programs enable us to take full advantage of the remarkable expertise represented within our faculty."
Aerospace plays a significant role in Kentucky's economy. In fact, aerospace exports are the top export in the state and number three in the United States — behind only California and Washington. According to the Kentucky Cabinet for Economic Development, Kentucky exported more than $14.6 billion in aerospace products in 2019.
Additionally, the Commonwealth is home to 79 aerospace-related facilities, which employ more than 19,000 people, including Belcan Corp., General Dynamics, General Electric, Lockheed Martin, Raytheon, and Sikorsky Aircraft Corp.
In 2018, UK Engineering embarked on a strategy for growth — a plan to improve Kentucky industries and the lives of the citizens they serve. Under the plan, the college strives to be the preferred institution for the university and state to invest in, and the preferred choice for industry and government to partner with. In doing so, the college aims to become an engine for economic development — turning its graduating students into successful workforce for the state and the nation.
In line with those missions, the new programs will promote and support economic development by training proficient aerospace engineers. "There is clear need for new graduates trained in aerospace engineering to meet industry demand in Kentucky, and we already have a significant number of faculty with cutting-edge research and expertise in a broad range of aerospace applications including controls, propulsion and hypersonics," said Michael Renfro, Tennessee Valley Authority Professor and chair of the UK Department of Mechanical Engineering. "These new programs are a natural fit for the University of Kentucky."
Housed in the Department of Mechanical Engineering, the new degree pathways will foster research and innovation by enhancing collaborations between UK and the local aerospace industry. This will be accomplished by leaning in on the expertise of faculty members who have degrees from, or have previously held appointments at prestigious universities and conducted collaborative research projects with NASA, Air Force Research Laboratory, The Aerospace Corporation, McDonnell Douglas Astronautics Co. (now Boeing), Harris Corporation's Government Aerospace Systems Division and Pratt & Whitney.
"Graduates of the new programs will join and can be inspired by UK Engineering alums who have contributed to and led groundbreaking achievements since the early days of aeronautics and space," said Suzanne Smith, professor of mechanical engineering and founding director of the NASA Kentucky programs at UK. "From systems testing at NASA for Apollo to bringing the new and growing commercial space economy to Kentucky, UK alums are already enabling future space exploration, advanced propulsion, aerial mobility and so much more."
Students are now able to enroll in the master's and doctoral degree programs in aerospace engineering, while the bachelor's degree program is currently recruiting students for the Fall 2022 semester.
More information about aerospace engineering at UK can be found online.