UK grad, former 'Time's Person of the Year' to deliver global health lecture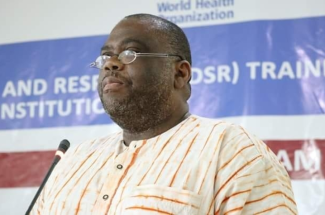 Mosoka P. Fallah, Ph.D., University of Kentucky alumnus and a 2014 Time Magazine Person of the Year, will serve as the keynote presenter for the Global Health Case Competition.
His lecture, titled "Liberia – The Road to Resilience in Health: Ebola to COVID-19," will take place noon Friday, Feb. 10. Fallah's discussion will be broadcast live in UK's College of Nursing Room 115 and also can be viewed via Zoom.
Fallah serves as program manager at the Africa Centres for Disease Control and Prevention (Africa CDC) Saving Lives and Livelihoods Initiative, which supports the acquisition and distribution of 65 million COVID-19 vaccine doses and focuses on turning vaccine delivery into vaccinations. Africa CDC is the technical arm of the African Union responsible for health security for the continent of Africa. Saving Lives and Livelihoods is a partnership between the MasterCard Foundation and Africa CDC where the former has provided 1.5 billion dollars for Africa CDC to help vaccinate 70% of the 1.3 billion people of Africa with COVID-19 vaccine. Fallah leads a team providing technical assistance for COVID-19 vaccine uptake to the 55 member States of the African Union.
Prior to joining Africa CDC, Fallah served as a Health Security Technical consultant for the World Bank where he worked on pandemic diagnostics for Ghana, Liberia and Sierra Leone in the context of COVID-19. He also has served as a Consulting Senior Scientist for the US National Institutes of Allergy and Infectious Disease (NIAID). Fallah is the founder and chief executive officer of a non-governmental organization in Liberia and the USA, Refuge Place International. This organization addresses the issues of access to quality affordable health care impacting maternal and infant mortality among poor urban and rural dwellers in Liberia. He also is the co-founder and director general of the National Public Health Institute of Liberia (NPHIL) — founded in response to the devastation of the 2014/2015 Ebola outbreak in Liberia.
For his work building community-level trust in the Ebola response, Fallah was named a Time Magazine Persons of the Year in 2014. In 2017, he was awarded the USAID Liberia Health Worker and the Development Person of the Year award for his work with Refuge Place International. Fallah is the recipient of the 2021 Global Impact Award for Alumni Impact from the University of Kentucky.
Fallah is a UK alumnus, having completed his Ph.D. in immunology at UK in 2011. He also has his master's degree in public health and global health/infectious disease epidemiology from the Harvard Chan School of Public Health.
Register here to tune in to Fallah's lecture.