UK Health Project Will Celebrate with Ribbon-Cutting at Appalachian Site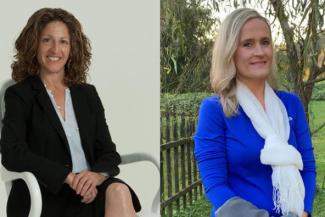 Make Better Choices 2 (MBC2), a mobile health (mHealth) project through the University of Kentucky, is celebrating a new wave of community participation with a ribbon-cutting ceremony at its project headquarters in Benham, Kentucky, on May 11 at 2 p.m.
MBC2 aims to improve health among Eastern Kentuckians through an interactive app, personalized health coaching, Fitbits and financial incentives. The study will involve approximately 350 rural Appalachian Kentuckians, a population at high risk for cardiovascular disease, obesity, diabetes, cancer and other chronic conditions that can be improved by diet and physical activity.
While this and all programs experienced delays due to COVID-19 restrictions, the team was able to continue with important aspects of the research by doing a pilot study last summer, working with local residents to develop program content, hiring and training additional staff members, and setting up an additional site on the UK campus.
"While these past two years have been times of trouble and strife, people from the mountains of Appalachia have always been very resilient and hardy," said Nancy E. Schoenberg, Ph.D., the Marion Pearsall Professor of Behavioral Science in UK's College of Medicine, director of UK's Center for Health Equity Transformation and principal investigator for the study.
"We are so excited to get back to work with some of the most amazing people in the world," Schoenberg said.
The research team is testing whether MBC2 can lead to meaningful and sustained lifestyle improvements, which help prevent sickness and early death. Participation is open to any Eastern Kentucky resident 18 and older meeting health and health behavior eligibility requirements. All must have a cell phone and agree to use it for the project.
Deanna Lee Sherman, MBC2 project manager and resident of Harlan County, noted that excitement about the project is growing.
"The community's response has been amazing. We're seeing some exciting traffic on Facebook, with very little advertising," Sherman said. "People are looking for local and meaningful ways to get healthier. This program offers that in a fun, supportive way, and at no cost."
Sherman and her team have worked with more than 50 local residents in the pilot and larger study to make sure that people know how to use the study's technology and benefit from the programming.
"We are here to help make this happen," Sherman said.
Among those attending the May 11 ceremony will be local residents who participated in MBC2's pilot study, community members serving on the study's advisory board, and city and county officials.
Closplint resident Heather Eldridge, a participant in the pilot study, said the program's personalized health coaching helped her set realistic goals.
"I feel I gained a better understanding of the way I deal with and my body reacts to stress. I am more aware of situations that cause anxiety and I feel more equipped to deal with them," Eldridge said. "My family noticed a change in me for the better. I am very grateful for that."
MBC2 previously produced statistically significant improvements in diet and physical activity and participants were able to keep up the positive changes.
"This newest program focuses on diet and activity and works very well in a big city, helping people eat better and move more, but we need to make it work here," Schoenberg said. "Studies have shown that the pandemic added pounds, interrupted our exercise routines and made us spend more time on screens, causing more sleepless nights and added stress."
The MBC2 study will try to help local residents overcome some of the challenges and lead healthier lives, she said.
"We are ready to roll up our sleeves and help everyone make better choices and lead healthier, happier lives," Schoenberg said.
Schoenberg and her community partners developed the Faith Moves Mountains health promotion projects through UK-community partnerships. These efforts, including a successful and ongoing diabetes management program and a child nutrition program, are located in Eastern Kentucky.
"For the past 16 years, we have teamed up with talented and committed local residents to create health programming that people feel is important," Schoenberg said. "We listen to community health priorities and find the most innovative programs and approaches in the research. Then, we make sure they fit here."
Sherman credited the local residents for making the MBC2 study possible as the program kicked off during the pandemic.
"Our communities really came through for us in adapting this study for Eastern Kentucky," Sherman said. "From meeting with us in small group sessions to working with us creatively through COVID challenges, with our community partnerships we have developed a wonderful program that is already making a difference."
Working through barriers that hinder nutrition, exploring the "fast and easy choices," and learning more about food labels are some areas the MBC2 health coaches will work through with participants, said Karen Stepp, an MBC2 health coach and Harlan County resident.
"With the guidance and accountability offered by MBC2, we can help participants become more aware of what they put into their bodies and, in turn, make healthier choices become easier choices," Stepp said.
Leah Baldwin, a resident of Letcher County who manages a ministry organization there, participated in one of three community sessions in 2020 to help develop the app for its Eastern Kentucky population.
Everyone needs a support system in change, Baldwin said.
"Having an individualized support system to break down what seems impossible into manageable steps will be what sets this program apart," Baldwin said.
To learn more about the MBC2 study, contact staff at (606) 894-0355, by email makebetterchoices2@uky.edu or visit MakeBetterChoices2.com. On Facebook and Instagram @makebetterchoices2 and on Twitter @mbchoices2
Research reported in this publication was supported by the National Heart Lung and Blood Institute of the National Institutes of Health under Award Number R01HL152714. The content is solely the responsibility of the authors and does not necessarily represent the official views of the National Institutes of Health.