UK Helping Kentuckians Lower Diabetes Risks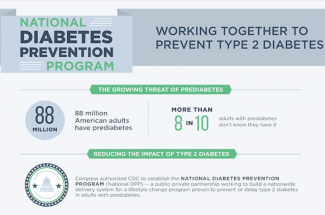 The University of Kentucky is helping prediabetic Kentuckians prevent or delay developing Type 2 diabetes through a collaboration between the UK Cooperative Extension Service and UK HealthCare's Barnstable Brown Diabetes Center.
UK extension agents deliver the Centers for Disease Control and Prevention's National Diabetes Prevention Program (DPP) to local residents who have prediabetes or are at a high risk for developing Type 2 diabetes.
Prediabetes and diabetes are big problems in Kentucky. According to the 2019 Kentucky Diabetes Report, one in 10 Kentucky adults have been told by a medical professional that they have prediabetes. An additional 12% have diabetes, and Kentucky has the fourth highest mortality rate due to diabetes in the nation.
The National DPP teaches participants evidence-based ways to make lifestyle changes to eat healthier, increase their physical activity and improve their coping mechanisms. The program includes weekly meetings for the first six months with the goal of participants losing between 5% and 7% of their body weight. The second six months has fewer meetings, as the focus turns to weight loss maintenance. Previous research has shown that participants who successfully complete the yearlong program lower their risk of developing Type 2 diabetes by more than 50%. Barnstable Brown offers the program to patients on UK's campus in Lexington.
"Partnering with extension allows Barnstable Brown to increase our breadth and depth for DPP services across Kentucky," said Laura Hieronymus, associate director of education and quality services at Barnstable Brown. "This collaboration shows that extension agents can successfully deliver this program."
In order to present the National DPP, extension agents are trained as program lifestyle coaches. This training is coordinated through Barnstable Brown. The agents also receive support from family and consumer sciences extension specialists on campus.
"This program is incredibly effective at helping people reduce their diabetes risks, so we are excited that our extension agents have the opportunity to be trained through Barnstable Brown to offer it," said Heather Norman-Burgdolf, assistant extension professor for food and nutrition in the UK College of Agriculture, Food and Environment.
The collaboration has been successful in Washington County, which is the first county to participate. There, 12 adult participants lost an average of 5.6% of their body weight, and 75% met the weight loss goals they set at the beginning of the program. The program also had a 100% retention rate. Participants commented they appreciated the excellent information that was provided and the sharing of personal stories. While they enjoyed the face-to-face group interaction, they appreciated that Zoom allowed them to continue the sessions.
"As a result of the program, individuals overcame certain nutrition-related obstacles including making healthier snack choices and buying less junk food for snacks," said Cabrina Buckman, Washington County family and consumer sciences extension agent, who led the program. "Participants shared they made healthy changes to their activity by walking, ordering walking sticks and being more active overall each day. Most importantly, participants shared that throughout the program they learned they were a work in progress and tried to have more patience with themselves."
Since the program began in September 2019, participants were nearly halfway through when COVID-19 struck. The group finished the program virtually.
"The participants were so good about being flexible and stuck with me," Buckman said. "I tried to keep them engaged along the way by providing them with packets and newsletters. They enjoyed Zoom once they got the hang of it."
Cooperative Extension and Barnstable Brown plan to introduce the program next in Scott County.